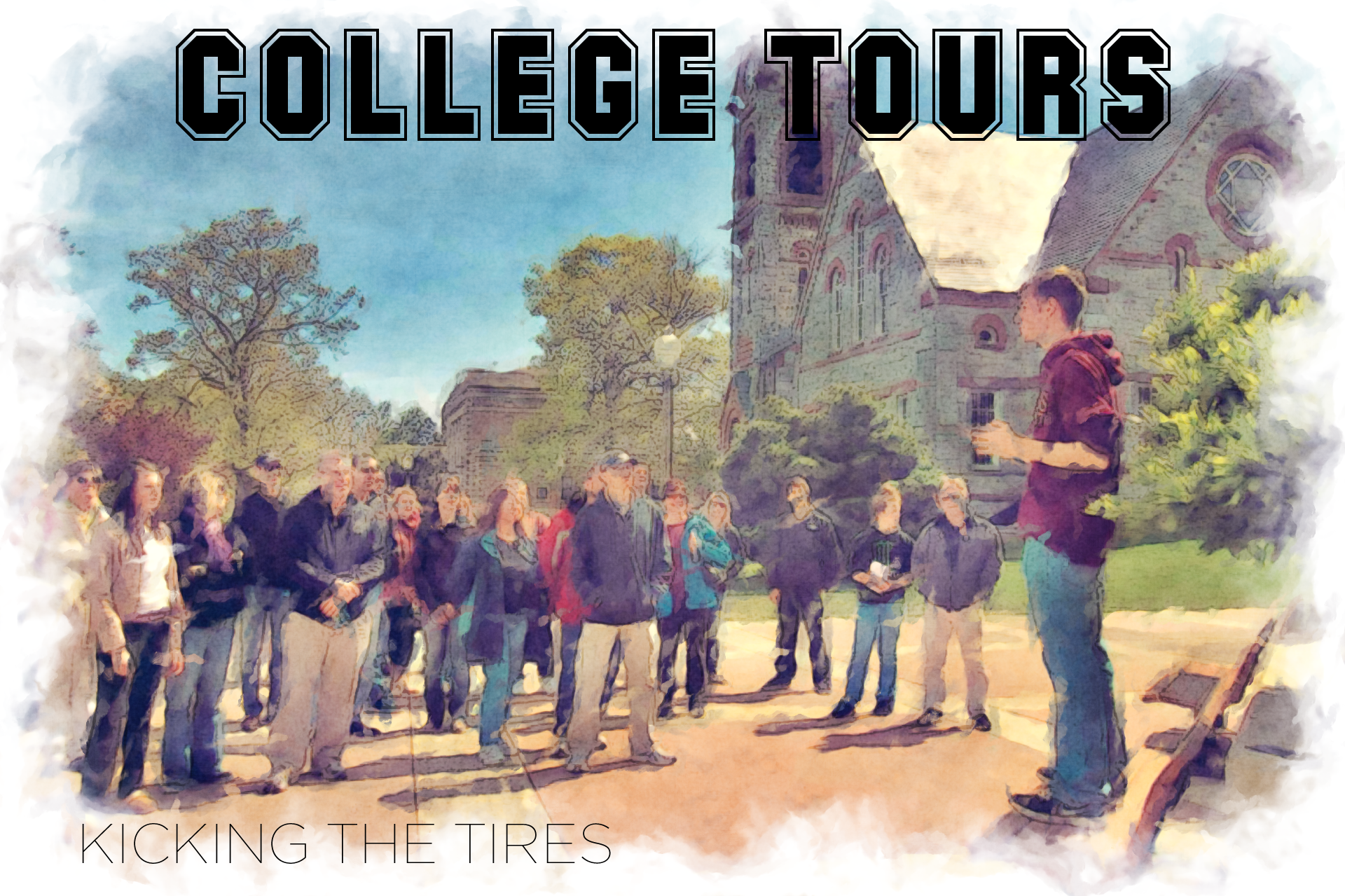 When you visit colleges, the info session and tour are very pivotal points in your understanding of the college. What they show you, and what they don't, is hugely important.  If you bought a car, you'd "kick the tires" to see if it was a good buy. We do far less shopping for one of the most important life decisions that we make. You're making a huge decision. The reason that 20% transfer rate is normal is because so many of us make these decisions so poorly informed!
Most people on college tours seldom ask questions. Most of us don't visit a lot of schools, enough to develop a "baseline" of what is right or wrong about a tour. So they have a "pitch" a patter which sells what is strong about the school, and often masks a lot of the pitfalls of attending there.
We know what to ask a car dealer, or a real estate agent, about big-ticket decisions. Here's how to do the same for your education.
BEFORE YOU GO
Research! It's not worth your time and money to go look at campuses without understanding that they're only worthwhile if they have good people to teach you.
Make a long list, avoid the 10 reasons that you should never pick a college, and research the professors and the department's curriculum in your intended area of major.
THIS IS ALL ABOUT OUTCOMES IN SIX YEARS that lead to a better life, higher paying jobs, and "Mafia," the professors and alumni that become your network that helps you for the rest of your life.
IN ADVANCE
Book your tours online, well in advance of your going. You can try to show up at some schools and grab a tour, but often, especially during holidays like spring break, are booked up.  Remember, if you are interested in a particular college within a University, like architecture, fine arts, engineering, or STEM, to see if there are separate information sessions and/or tours for the school, along with the general information session. Make sure to sign up for BOTH.
GO at a time period when school is in session, that is typical for the college, especially if you are looking at schools where hot/cold weather is a factor.
If you are going to entertain going to school in Maine, take a Friday to do it in February and try on the temps for size. Arizona in July may be too hot, but in February it might be just right. SPRING BREAK for a high school does not always line up with the college, so those are good days.
USE In-Service days and holidays, BUT remember that most colleges do not offer tours on Saturday or Sunday, because they want you to see the school in action. Some schools have forms that you can fill out to take allowed days off to see schools. Spring break may work out great. Schools don't take them all at the same time, so your high school may be out and the college is still in session. If not, take a couple of "sick" days around an in-service or other off-day if you need to, but GO.
ALLOW enough time in your planning to see a bit of the campus, and the city where the college is located. Drive around for 10-20 minutes just to get a feel of it. Make some time to talk to students at random on campus. Get a feel for the place outside of the tour. (See more below on how to do that.)
PLAN TO STAY in a town where a college being visited is located, if you're on a road trip, especially ones that might be top picks.
Stay as close to the college as you can. A few have hotels associated with the campus or their medical facilities. Alumni and visitors to the faculty tend to stay close to campus. Often you will meet people that can be very informative about the school at their restaurant, or, if parents are so inclined, their bar.
Go explore the town! Nothing beats a night out and about to understand where you'll live for four years. Staying by the airport or in some place between towns will get you a good night's sleep, but not much information.
THE DAY OF THE TOUR
Our "Before the Tour" Secret Weapon:  Go to the local coffee house, nearest to the campus. Go have something, and check out the place. What are the students like there? What's the "vibe?"  Are the students working solitarily, are they having conversations? Are there professors and students in there talking or working together? Are people friendly? Cold?  You have to live and go to school in a place for four years, about 20% of your life to date SO, don't underestimate checking out how the student body rolls.
Watch where you are going, and listen carefully to the pitch:
Do they show you both small "upper level" classrooms and lecture halls? How big are the freshman/sophomore lecture halls?  If they are doing 350 or up, and tell you that graduate students run sections with more in-depth time, that is a red flag. You're paying top dollar to be the guinea pig of a graduate student? Graduate students often aren't too excited about teaching undergraduates, and some lack core competencies in doing just that. A professor with a class in a 350+ hall will have difficulty getting to students in office hours, unless virtually no one shows up. 250 is the bare edge of acceptable.  Guides always love the line "Your classes are big as a freshman, but they get smaller when you get into the major."  Unless your "C" in a 1,000 freshman biology class, which is for real, counts less than your "C" in your major, big classes are BAD NEWS. You can be forced to switch a lot of sections, drop other classes you need, and have to potentially stay over a summer, or into a fifth year, just to get the courses that you need to graduate, and not drown in overcrowded spaces. Bad grades in freshman classes that were overcrowded can be damaging to your GPA, and hurt your chances of getting into a good graduate school.
Do they showcase important features, like a laboratory, theater, practice rooms, etc.?
Do they take you into see student housing and/or explain residential options well?
Do they take you into the dining hall? (If they invoke student privacy, red flag that.)
Do they talk substance or fluff? Are they touting academic results, quality of education, etc. or a lot of anecdotes, sports, and campus life?  When it's the latter, you should spend more time researching.
Some schools, including big, and highly ranked ones like Stanford, don't even take tours through academic buildings anymore.  Pretty campuses and yarns about where High School Musical 2 was shot are nice, but they don't tell you much about how or where you will learn, which is the bottom line of why you're there.  Some schools will take you to a preferred classroom and avoid the lecture halls because they don't want you to see how BIG they are.
The information being provided by your tour guide is partially scripted and highly coached. Guides are sent out with talking points, but they're students.  Often, they will share some enlightening things if you ask them the right questions:
OUTCOMES – The biggest thing that you want to know about any school is what you get out of it. A degree is a piece of paper. How do their professor relationships with students, and alumni MAFIA work?


Do the professors, who have worked with you for four years, write you letters of recommendation to get to a graduate school or a medical program, or are you palmed-off to a "Career Guidance" office or department, where a social or case worker will try to piece together your life from your transcript and write one?
Do they offer a capstone project? Seniors who create a year-long final project with their faculty at many schools have an edge in graduate school if they prepare a project that they can use for their masters' thesis, or to add to their letters of recommendation to a medical or veterinary program, if the student is doing a research project that would recommend them as a top candidate for higher education.  Big schools don't have the manpower for it, but smaller colleges, and honors colleges within enormous schools do. The can help you find your way to more "technology-proof" careers that will last as the world moves towards robotics and artificial intelligence replacing people in a lot of jobs.
Does their alumni association network help students leaving college find a job? Keep one? Get a new one if they lose one?
Press for specifics about housing, residence life, and meal plans, including some rough idea of costs, and whether it is more/less expensive to live off campus?
If the number of off-campus students is above 20%, how many are commuters?  If you see large numbers of parking garages, that may indicate a commuter school where a good deal of the "college" experience gets lost in people who don't live on the campus or in housing nearby.
They will talk about majors. Are dual majors or, more importantly, "hybrid" majors allowed? Encouraged? Minors? These days, education is very spectral. Someone in the sciences might also want to study writing and public policy to understand how to prepare to write research grants.  Biology and economics might help a business major interested in working in the pharmaceutical industry.
Transportation – On larger campuses, do they make note of how their transportation system gets students around campus? How hard is it to get parking for a freshman? In general? Stay a little longer and use the system yourself. Ask students how hard it is to use.
BE A GOOD CONSUMER
If they aren't showing you things, or mentioning things, ask. If they're not on the tour, and they won't take you there, at the end of the tour, ask how you can see them. If they still hem and haw, you have a red flag because they don't want you looking at a weak spot.
Good things to look for, and ask questions:
Sciences – Are undergraduates allowed to do research? How many get to do research?
Arts– If the tour doesn't cover the art areas, how do we see them? Can we get someone from the department to talk to us?
Music Department Tours –  Are you able to get your general ed classes when the course catalog opens up, or do you have to wait until school starts and auditions set your music classes?  (This is a problem at many schools where the catalog has been open for months and you can only pick the "leftover" courses or have to hustle to keep chasing seats that are dropped in better courses.
Engineering and/or STEM – Are there events, summer programs or other school-specific information sessions that you can find out about?
Student Housing – Can you see a typical dorm? Schools that show you them tend to have good ones, overall. Those that don't? Well…
Dining – The ones that avoid taking you to the dining hall? Go check it out for yourself after the tour. Ask a student or two how they like the food, and what their options are. They are usually happy to tell you.
TAKE TIME, TALK, WALK, LEARN ABOUT THE SCHOOL
Current Students – When you're done with a tour, plan enough time in the day at the campus to walk around a bit. If it's during the school year, ask a couple of students what they think about the school. Check out the department where you plan to major.
Faculty – Generally faculty don't make a point of stopping strangers in the hallway and engaging them, but frequently we've found if you're looking around the department, someone might approach and ask if you need any help. Chat them up. Ask them about the department. Often you get a much more valuable idea of how things run from the people in the particular major that you're interested in than you will from the tour guides who are programmed to give you the face that the school wants to project.
We've had professors at a major university or two tell us that the school isn't suited to dedicated people in the major, that it is merely an adjunct set of course offerings as the university sees it.   We've heard about everything from foot-dragging dorm renovations to campus safety to the financial viability of an institution all by talking to the students, faculty and staff on campuses.
Since it is a major investment in your family's money and your future, you have every right to "kick the tires" of any school that interests you.