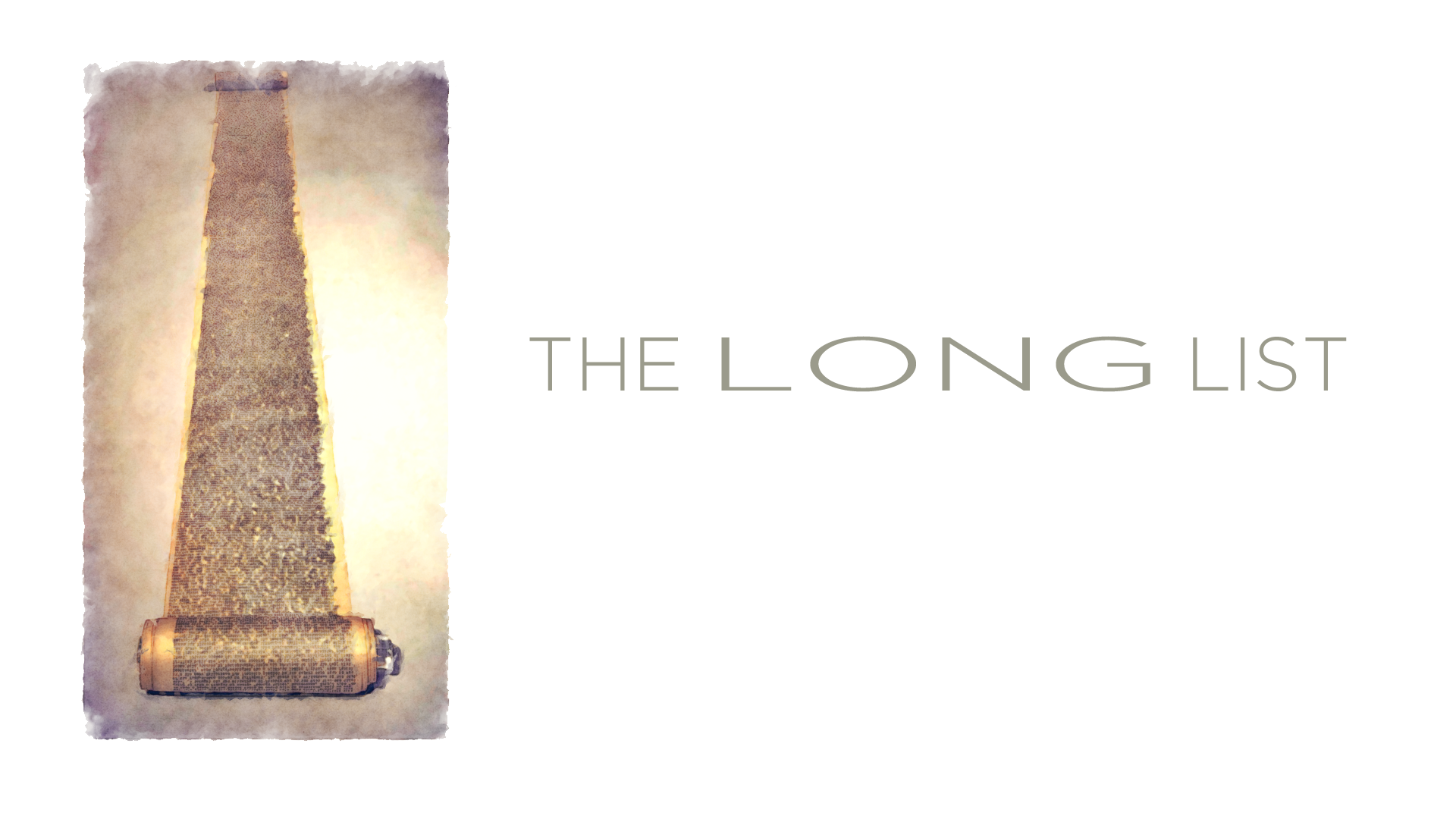 March is a busy month, but it's also the time that Sophomores, and Juniors, at least those who have yet to do it, should start putting together the "long list" of colleges, or art specific schools and conservatories that might end up on the short list in their Junior year.
Most of you will start this process with Mr. Ross when you go to advisory. If you want to get ahead of the curve, or, for parents who are interested, understand the process, read on.
How do I make up a long list?
Some of the process we've talked about before in past articles. They're linked below, in case you missed them.
Look up schools in your area of interest through one of the ranking services like U.S. News or Princeton Reviews. Don't pay too close attention to the ranking numbers. Schools have figured out ways to "game" U.S. News in particular, but they will, generally, give you a list of some of the top schools for your field of interest in the nation.
Follow the Professors – Whatever your interest, learn about the top people teaching in it at the undergraduate level, and make sure that the schools at which they teach are on the list; For music students, or those interested in using music as a calling card/minor, in advance of the Take A Lesson portion of our short list, you need to see who is out there. Research the people who teach your instrument at the colleges and conservatories. Big names aren't always a plus. Read the Follow the Professors article to see how to come up with your musical long-list. Read the Article on How to Do This.
Look at the Curriculum in Your Major – One of the supplemental question prompts "Why do you want to come here," in part is looking to see if you know what kind of education that you're getting. Understanding what your course of study over four years will be removes any surprises, or gotcha moments, from your college years.  Every website for a college publishes their curriculum.

Are the classes interesting?
Are there a lot of prerequisite classes that you have to take FIRST to take the courses that you want? If so, are they easy or complicated to take?
If you scored well on the AP tests, can you either get credit or test out of prerequisite courses?

Geographical Diversity Bounce – Targeting states or countries where fewer Florida students apply enhances your profile geographically.

You are not committing to going anywhere by looking

, so, in the exploratory phase, students and parents need to expand their worldview to see what schools are out there in places like California, Colorado, Oregon, Washington, Idaho, Indiana, Alabama, South Carolina, Canada, and even Europe (Some education is either low cost or free there, even for International students).
Investigate Schools That You May Not Know – Use some of the online search tools to see where you can get in with your current GPA, and improve it a fraction or two to see where you can get in if you improve your grades in your Junior year at sites like Princeton Review (fee for services) or CollegeSimply.com, among others. Check out our reviews here. We'll be posting GPA targets soon on our performing arts schools-specific reviews.
State Prepaid Plans – If your parents have a state prepaid college plan, and that is what you are using to fund your college, look at the schools that take it.  You can use it outside of your state in many states like Florida, but the total amount will be smaller.Depending on your financial circumstances, though, you might just get a better deal going to school at a top national institution out of state. Add those to your base list of Florida Prepaid schools.
529 Funds – Great investments for educational dollars because they put the money to work for you, and you don't pay income tax on gains on the invested money, IF it is used for school related expenses. You can use the money to go to any college, university, or accredited conservatory.
Alumni & Professors' "MAFIA" – Do they have a strong alumni network? How good is it at helping people find work, or network to get ahead. We're looking for "Mafia." People who have your back and will help you, throughout your life, with personal and professional associations that will take on a rapidly changing world.
Legacy – Are you a legacy of an alumnus or alumna of a school? That can be a blessing, or a curse. At a distinguished nameplate school, that might improve your chances greatly. If, however, your parent went to a large public or private university that has mushroomed in size, the advantage may be lost to overcrowding.
 Department Size – In your field of study, say, Geology, how many people are in the department? How many in faculty? Do all of the faculty teach undergraduates? General teacher to student ratios are nice, but colleges fudge these a bit because the small numbers in a field like philosophy or classics offset the huge numbers in business or hospitality. If you move past a 1:20 faculty to student ratio IN YOUR DEPARTMENT, then you should remove it from your long list.
Place – Wherever you go, there you live. For four years.  Do you like to hike? Do you crave the 24 hour world of big cities like New York?  The political world of DC? Small town life? Country? Midwestern?   Vegas may have a great music program, but you might have trouble selling mom and dad on a 24/7 party town. There are great colleges in some very cold places. Do you like snow?  Write down ideas about what appeals to you in terms of weather, geography, your interests, etc.
Quality of Life on Campus – The quality of life on college campuses varies GREATLY. Some things to look for, that can seem kind of overwhelming, but these are the things most people forget to ask about, and regret, because you are there for a long time, and some of these things will help you weed out your long list to the 12-20:

Look and Feel – Some schools are postcard perfect, elegant. Some are city campuses like New York University, that aren't even really defined spaces, but more collections of nearby buildings here and there. There are sprawling acreages like UCF, and intimate places like New College of Florida, and smaller colleges like Bates or Haverford.
Specialties: Hampshire and UC Davis have their own farms. UC Santa Barbara is on top of good surfing, as is Pepperdine, in California, which is located across Pacific Coast Highway from the beach.
Do people live on campus all four years? If not, what is the quality, cost and availability of housing around the college? Is it a commuter school where everyone clears out at night? That can greatly affect the social life.
On-campus housing: New? Old? Cost?  Do you have to take a meal plan? How much does that add? Can you take fewer meals if you need/want?
Greek Life?  Fraternities and sororities are a way of banding together on a large campus. Many, because they are the most organized groups of students, control campus social life. Some schools don't care for them, and ban them. Others simply don't need or want them.
Conveniences:  Is there a 24 hour café, or are the laundry machines the kind that text you when they need changed?  Is the food situated in one place or are there places to eat around campus (This is only an issue at larger schools). Conveniences aren't just on campus. If a school interests you, use Google Maps and look around. How far away are shopping conveniences like a market? An office supply store? Are these things even important to you? Or do you like the fact that the town only has a general store, a gas station and a coffee shop?
Food – What kinds of food offerings are available to you on campus? Off campus? Does your meal plan only work on the grounds, or do some area restaurants also offer you a meal that can be paid for with your campus plan, in whole or in part?  How often do they change up the food?  How many places there are to eat is not nearly as important as how good the food choices are. A single dining hall with great food trumps a small dining hall and a fast-food branded-food court frequently.
Transportation: Is there adequate mass transit or do you need a car to get around? Is the airport nearby or a long way from the school? How do you get from the airport to the school? Is it expensive to do that? Is the airport expensive during holiday periods?
Special Paperwork – If you go to school in Canada, or abroad, what additional 'hoops' do you have to go through as a foreign or International student?  If you have special needs, what do you have to do to make sure that they will be honored?

Sports –  Sports should be the icing on the cake, but, for many high school students, it's the icing, the cake, and the rest of the meal. If you big-L LOVE sports, it might push you to one of the big football schools, or a basketball powerhouse. Some of them are pretty excellent schools. Duke, for example, is a basketball powerhouse and a top academic school.  Arizona State? Eh. Maybe not so much.  And here's a real shocker: A lot of the middle and smaller schools REALLY DO have sports. DIV II or DIV III, but the games are just as loud, and often the education, what you're there for from Monday to the next Sunday, is much better.  You can always still root for the Canes, Knights, Noles or Gators even if you are at another school.
Once you have a long-list