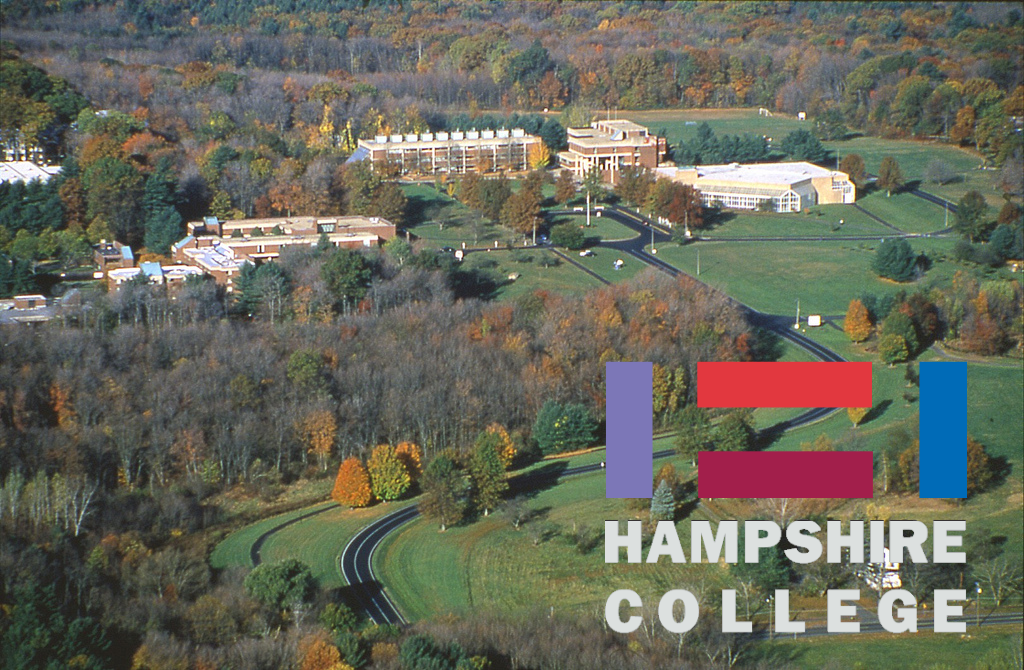 Type: College
Size:  Small
Style: Non-Traditional/Outside-the-Box
Honors College: N/A
Affiliations: Five College Consortium (UMass Amherst; Amherst College; Smith; Mount Holyoke)
Student Body: Undergraduate  (1376 Students)
Testing:  NO SAT/ACT Required
Admissions: Applied: 2671; Accepted: 1789  (67%); Class Size: 331; Early Decision 81%
Average GPA: 3.45
Students of Color: 31%
Male-Female: 41%-58%
Student-to-Faculty Ratio: 10.6:1
Freshman Retention Rate: 82%
Freshman Graduating After 4 Years: 63%
Attend a Graduate School within 10 Years: 50%
Princeton Reviews Return on Investment: 90%
Travel Cost/Time/Airport: Low to High: $127-$330/3-5 hours/Springfield CT (BDL) (Closest) Non-stops Available PBI & FLL
Location: Amherst, Massachusetts
Best For: Outside-the-Box, highly self-motivated students
Hampshire College
If you hate school, love school, march to the tune of your own drummer (Doesn't that describe quite a few performing arts high school students?), how about the first school that dumped the SAT/ACT, dumped grades, lets you design your own major, and encourages students to challenge the faculty?  Hampshire College is THE outside-the-box school.  Students go on to achieve some amazing things, with a few that form multi-million dollar enterprises before they've even graduated college. That being said, Hampshire is definitely not for everyone, but it does suit so many performing and visual arts school students perfectly.

Academics
Hampshire likes to say that it has 1400 students and 1400 majors. This is a non-traditional school that was started by Amherst and UMass Amherst to find the outside-the-box thinkers who rub against the grain of normal academia and give them a space to think, create, and change the status quo in a rapidly evolving world.
Their pedagogy, the way that the school teaches, is built around the expectation that students should question authority, assumptions, convention, even those of the faculty.
Students pass through as first year, second year, etc. They explore the curriculum, and develop, with the help of first one, in their first year, then three advisors, a thesis that they wish to pursue.  If the faculty at Hampshire doesn't have someone that a student needs to advise, they can reach out to the other colleges in the Consortium for one of the advisors, and even to other educational institutions outside of their college system if need be. Students then take classes and research to develop and present that thesis as part of their graduation requirement in their fourth year.
This too is a loose framework. Some projects take off faster than others. A student whose project has moved into developing a product, or a service, or a concept ready to change the world may find themselves working toward that goal in their second or third year. Some students have had such success that they have launched a business, and had to find someone internally to run it for a year so they can come back and finish their thesis work.
Thesis projects have spawned multi-million dollar companies like Stonyfield Yogurt, and, more recently, a student who, while working for an NGO in Haiti, developed a bit of software for the smartphone which catalogs misdirected resources and reallocates them so well that the company he created at Hampshire had to move to a hatchery in Amherst, and then on to Boston to handle millions of dollars of orders. A girl with what seemed like an esoteric thesis about cheese and textures and music and their relationship to what we enjoy eating is now a cheesemonger for Iron Chef Morimoto. Another student, looking at the new green building being built on campus, figured out a way to improve a window's insulation rating, and is now starting a business to build the windows in the US with a European partner.
The campus itself has been a wellspring of ideas. Hampshire is situated on a large farm, and the dairy and some of its other operations, are places where students work, fall in love with things food and agriculture, and then their thesis often incorporates these new found passions. Students were involved with the design and planning of the newest building on campus that was pushing to achieve a higher standard of LEED certification for being green.
Students can study at any of the schools in the Consortium. When they attend a class at Amherst, or Smith, or Mount Holyoke or UMass, they are given a letter grade, which is added to their written transcript "book."
Hampshire is a place that caters well to autodidacts, people who teach themselves. The Hampshire faculty works to challenge them, and expects to be challenged back. Many in the faculty, for their course curriculum, will look at the thesis projects of the students and then tailor aspects of the class to help their students on their paths of inquiry.  The methodology of their educational system begins with questions that lead to research and analysis the compels students to write, document and negotiate information, in what are such substantial independent projects that both businesses and graduate schools find Hampshire grads appealing and compelling candidates.
There are no grades. Hampshire's reviews are written, and their "book" becomes the diary of their educational history.  Masters programs tend to like Hampshire's book because, unlike the vagaries of letter grades, the commentary that is personal and on-point provides a much clearer picture of the student's chances of success at a graduate level, or in the work world.
Many of Hampshire's graduates give back, both in time and money. Documentarian Ken Burns not only helped build a new media center, but he also spends summers frequently teaching a new generation of documentarians at the school.
The college is a place which attracts faculty from top real-world places. One of the animation professors, for example, comes to Hampshire by way of Pixar, and it's not uncommon to find people who have been successful outside of academia on the faculty in all disciplines.  Faculty turnover is moderate. This is not a staid school, so the faculty that it attracts suit the teaching methods and the students that they teach.
Like all schools those uber-success stories represent a percentage of the alumni. Many students who go to Hampshire find that the campus life fits them. No Greek life. Difference is not just tolerated; It is the norm.
Given the likelihood that Artificial Intelligence and robotics will hugely rewrite the way 80% of us will earn a living, Hampshire may be the best college in the world to prepare for a world that is being rewritten, upgraded, and rebooted.
ARTS
Hampshire has a small music program, including the well-credentialed jazz professor Marty Erlich. Most of the larger ensembles, concert bands and orchestras are found at the other colleges in the Five College Consortium. In the "build your own" department, music majors can work with programs at UMass or Amherst.
They have a great film program that is small, and can position students for graduate film or a career in film. Ken Burns' presence make Hampshire well known for aspiring documentarians, and they have a deep collection of animation equipment.
Theater and acting? Hampshire has sent a number of actors into the working world, Yale, USC, NYU, and many of the other top programs.  Remembering that you design your own major, you can patch together virtually anything that you can sell the faculty advisors on.
They do award a credit, called an "Arts in Action" grant of a few thousand dollars per year for just having played well in high school.
If you are interested in ethnomusicology, or fusions of music and other subjects you can do anything. One cellist who fell in love with the dairy farm on the campus did her thesis on music and textures and foods and how they interrelate in restaurants. She was able, coming out of Hampshire to land a job with Iron Chef Morimoto as a cheesemonger for his restaurants, and will go on to graduate school for restaurant business management and, hopefully, a higher position in his organization.
Location
Located in Amherst, Massachusetts, Hampshire is situated on a 400 acre farm where approximately 40 acres is used for campus space.  Hampshire is part of the Five College Consortium that includes Amherst College, University of Massachusetts at Amherst (UMass), Smith College, and Mount Holyoke.The neighborhood around the five colleges is a mix of suburban residential and rural, but, because of the colleges, has it has international and big city flavors in the downtown areas of several of the towns around the valley, with influences of international foods, top movie theaters, theater, nightlife, and concerts.  Free bus service between the colleges makes it easy to travel to any of the different city centers for social as well as school purposes. There is a bus stop at the school for services that go up to Boston, or down to much closer Springfield, Connecticut.
Diversity
If we could give them a star-plus for this we would. In every way possible, Hampshire is a model for diversity on the normal college metrics. It not only outshines most other higher learning institutions on the general metrics of race, ethnicity and basic gender. It has one of the most solid footings in understanding and answering the spectral gender diversity of LGBTQ students. Where it is not diverse is in social typing. Hampshire is almost exclusively outside-the-box people. Conformity along the lines of Greek life or more "preppy" schools are not found here.
Athletics
If your skill sets focus on Athletics, Hampshire is probably not your school. It is a member of the United States Collegiate Athletic Association (USCAA) and the Yankee Small College Conference (YSCC) in basketball, soccer, and cross country. They have club sports in Ultimate Frisbee, rock climbing, and an equestrian team. You can also participate in the club athletics within the Five College Consortium, so UMass and Amherst both can offer more choices that are a short ride on the valley's free student bus line between the colleges in the group.
Housing
Hampshire has exceptionally good housing that fits its students well. There are a lot of single rooms available in the freshman dorm if you prefer that kind of thing, and most rooms are two to a room for the rest. A/C and improved heat were added to the freshman quad two years ago. The second through fourth year housing is a variety of living situations from traditional dorms to quads and apartment-style housing. There is a lot of new housing built over the last few years, and the older units have been getting good overhauls.
Quality of Life
The quality of life is amazing for the right kind of student. Students used to fashioning their own education dress and behave in their own style as well. The vibe here is non-conformity, but there is a kind of odd conformity to that, in that "campus shaggy" is kind of the expected norm. Food is sourced from not only the campus farm and local farms, but sustainable co-op agreements that the college's food service has. The central dining facilities on this small campus are fewer, but well liked. The students are very much engaged with the administration in the development and operation of student services, so there is a reasonable amount of democracy in the selection of daily essentials like food and coffee and stuff in the student store. There are a lot of vegetarians and vegans at Hampshire, so if you live this way, you will find options that are excellent.
For students who are independent, good communicators with faculty and peers, and motivated learners, the atmosphere and the opportunities are pretty much second to none.
Study Abroad
Unlike other colleges, Hampshire's very open academic framework allows Study Abroad without the usual semester penalty of grades that don't transfer, or lack of institutions that offer coursework in your major.
Outcomes
When you look at outcomes, 65% of Hampshire students go on to earn a master's or terminal degree, and Hampshire is in the top 1% of schools whose students go on to get a terminal degree like a Ph.D.  89% find a job within one year of graduation, and 25% of graduates start their own business.
The top schools where Hampshire graduates do postgraduate work include:
Columbia University
University of Massachusetts/Amherst
New York University
Harvard University
Yale University
Boston University
University of California/Berkeley
Cornell University
Smith College
University of California/Los Angeles
University of Pennsylvania
Massachusetts Institute of Technology
Northeastern University
Costs
Financial Aid
Hampshire calculates financial aid, like all schools off the FAFSA. They do provide some additional merit aid, like their "Arts in Action" award for having performed at a high level in high school.  They DO NOT require you to play/perform or do your fine art area to earn the award.
Alumni
Hampshire, particularly for such a young school, has an amazing list of distinguished alumni. A lot of people do big things coming out of undergrad here.  A quick best of many, many that include top scientists, novelists and 21st century next-generation industrialists with a strong social/environmental awareness;
Lupita Nyong'o, Academy-Award winning actress for "12 Years A Slave"; Star Wars: The Force Awakens
Ken Burns (Jazz, Baseball,The Roosevelts), PBS' award-winning documentarian
Stonyfield Farm "CE-Yo" Gary Hirshberg, who launched the yogurt business, like many multi-million dollar businesses, at Hampshire;
 Liev Schreiber – Tony Award winning Actor. Films include Spotlight and X-Men Wolverine, TV: Ray Donovan (Showtime)
Jeffrey Hollender, President and CEO of Seventh Generation Inc.
Daniel Horowitz, noted criminal-defense attorney.
Edward Humes, Pulitzer Prize-winning journalist
Admissions
Hampshire is SAT/ACT free. None needed.  It was the first school in the nation to defy the U.S. News & World Report ranking system and go from Test Optional school to dumping the SAT and the ACT altogether in 2014. Their second year results have been equally impressive.  That doesn't mean that they are pushovers though. The fall 2015 entering class was more selective than previous years.  Hampshire admitted 63% of those who applied in 2015 down from 70% the year prior. Their goal is to bring that number below 50%.
This is a school where interviews are HIGHLY RECOMMENDED. WIthout the SAT component, a lot of the way that they get to know you, beyond the essay, is in face-to-face meetings that most other schools, which use admissions as a profit center, have lost the time to do. Isn't THAT refreshing?
OUR TAKE
We award Hampshire College 4 diamonds out of a possible 5:  One diamond for quality of life. The campus is pastoral, the farm on it changes lives regularly, yet it is part of an area, with Amherst and UMass Amherst nearby, that offer great food, coffee houses, top line entertainment nearby with free transport to shopping, movies, and all the modern conveniences, etc.   A diamond for education for their faculty that expects students to challenge themselves and the faculty, excellent course offerings tailored to the students in the course and their thesis projects, and the large number of people who leave here with their own unique flavor of success.  A diamond for diversity which is excellent by race and gender, although it is a bit lopsided in the outside-the-box style of student.  We give them a diamond for cost & financial aid because, while their tuition has been rising, they find ways to keep the student's overall debt very low. Add a diamond for their admissions process which dumped the SAT and looks at you like a person. With interviews, it is old school personal and hugely fair. If you are the kid who hates school now, is highly bright and likes to make their own way in the world, this is one of a handful of schools that caters to you.  The one-star drop is because of its more narrow-band focus on eclectic, outside-the-box kids. It is an amazing school, but definitely not for everybody.
___________________
TADA! ARTICLES ARE FOR THE EXCLUSIVE USE OF ITS MEMBERS. NO RANKING MAY BE REPRODUCED IN WHOLE OR IN PART WITHOUT THE EXPRESS WRITTEN PERMISSION OF THEROSSGROUPFT LLC.