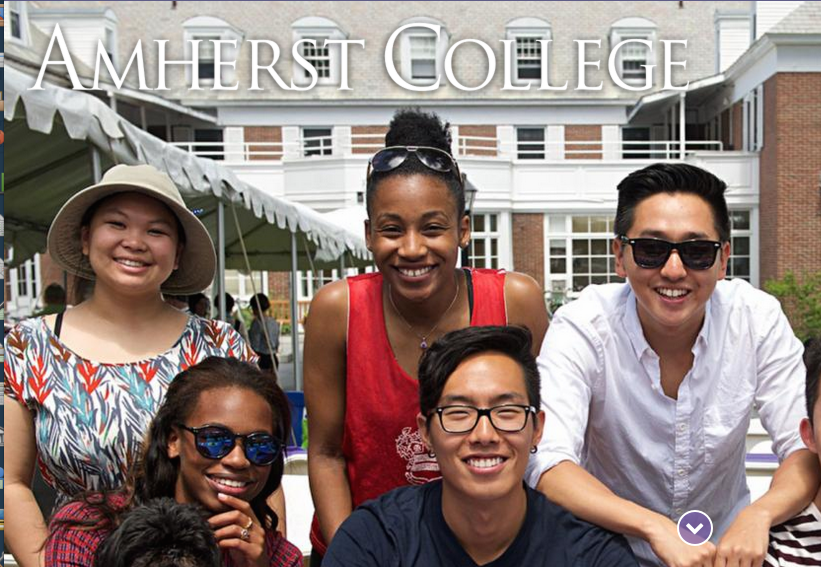 Gold Standard School

Type: Liberal Arts
Size:  Small (1,800 Undergraduate);
Style: Formal, Focused and Motivated
Affiliations: Five College Consortium (Take courses at Hampshire, Smith, UMass Amherst, Mount Holyoke);  Participant in the Twelve-College Exchange Program;
Student Body: Undergraduate
Testing: SAT/ACT; 2 SAT Subject Tests 
Admissions: 14% Accepted; 10% of the 14% Early Decision; 41% of Accepted Matriculate
Students of Color: 45%
Freshman Retention Rate: 98.0%
Freshman Graduating After 4 Years:  94.6%
Travel Cost/Time/Airport: Low,Moderate/3.5Hrs (Springfield, CT), (BCD)
Location: Amherst, Massachusetts (Northeast)
Best For: Non-Arts; Arts Minor
If we could award a sixth diamond, we would. Amherst College is one of the top small colleges in America.  With one of the best financial aid systems in North America, it offers all students who have exceptional academic and other talents an incredible opportunity to get an education and position themselves well for graduate schools, medical schools or law schools that will greatly improve their ability to work at interesting and challenging occupations and earn a better living while likely having a hand in defining and changing aspects of the world around them.
Platinum of the Gold Standard Schools for Funding
If your family shows that it can pay only a small portion of tuition and costs, or maybe none at all, Amherst pays the rest.  They replaced all loans with scholarship grants.  Amherst does not require students to take on student loans in order to pay for their undergraduate educations.
Amherst has a need-blind admission policy. They do not consider whether you apply for aid or to what degree you have financial need. In the last academic year, Amherst provided more than $45 million in scholarship aid to roughly 60% of their student body, with an average financial aid award of nearly $47,000.  Their goal is to have students graduate debt free, something which we can wholly endorse, and wonder why more schools don't do this.
Amherst partners with QuestBridge the program that many lower income performing arts high school students use to  connect to elite colleges and universities.  They have a Telementoring program that connects students already in Amherst with students in Questbridge to help you structure a pathway to Amherst or one of the nation's other top schools if you work hard and have the grades and the drive.  Sign up EARLY.  The program may already be full for the next academic year.
ADMISSIONS
Amherst is highly selective. 14% of students applying are accepted 40% attended the college, making up the 469 students in the class of 2018.   The 1,800 person student body's male/female distribution is roughly equal: 49% / 51%. 45% of the students body self-describe as students of color, and students from low-income families make up about 26% of the students at Amherst.
36% of applicants were Early Decision (ED), which speaks to the competitiveness of those applying to this school.  If this is your first choice, and you have your school resumé positioned correctly for it, consider applying ED.
This is NOT a test-optional school.  SATs should have Critical Reading in the 700-800 range; Math around 690-780; Writing at 690-780 and two SAT II Subject Tests.  The ACT is middle 50%: 31-34.
Freshmen and sophomores: If Amherst interests you, use their standards and requirements to plan your academic career in high school.  Stick to this level of rigor, and it will be easier to get into some of the top colleges in the world!
Although not a requirement, as they judge you against the programs of your school,. plan on four years of language in high school.  Plan on as much rigor, taking AP classes, dual enrollment, and, while they see what is available at your school, plan on taking four years of math, science, and English or the equivalent using the dual enrollment college courses, to put yourself in the hunt for this school.
Performing arts high school students have a tactical advantage when applying here if they can keep their academics high:  You all have exceptional accomplishments or talents in music, theater, dance, and visual art.  Amherst lets you take advantage of your talent by submitting material for review by Amherst faculty through SlideRoom in addition to completing an application.  You are in demand here, as students with your exceptional skills usually seek out larger schools, and Amherst is anxious to have equally great programs in music, drama, etc.
On their site you will find additional, Amherst-specific instructions for each category of submission.
The Power of Large in Smaller
Amherst is a part of the Five College Consortium that includes Hampshire College, Smith College, Mount Holyoke and the University of Massachusetts at Amherst (UMass Amherst).  Students can take courses at any of the schools in the consortium. All offer letter grades except Hampshire, which offers written reports.
In addition, students can elect to participate in the 12 College Exchange Program,  which provides them the opportunity to study at another college in the exchange.
The following institutions other than Amherst participate in the program:
Amherst participates in Study Abroad with colleges and universities around the world.  It is a more progressive school. The driving force behind the consortium, Amherst and UMass also created the more outside-the-box and experimental Hampshire College.
Retention Rate & Four Year Graduation Rate
Amherst College has one of the best retention rates in the nation, keeping 98% of its freshmen after their first year.  94.6% of students graduate within a reasonable time, three or six years depending on the degree.
Academics
A talented faculty provides an exceptionally personal education: A full-time faculty of 220 teaches 1800 students for an 8:1 student-faculty ratio. The school has 70.8 percent of its classes with fewer than 20 students. Nearly a third of all classes have less than nine students.
The level of rigor is high, as is the type of student who goes here, so if you like to be around smart people who are taught to question and challenge assumptions, rather than learn facts by rote, then you are in the right place.
Location
Located in Amherst, in the Pioneer Valley, Southwest Massachusetts, closer to Springfield, Connecticut (1 Hr) than Boston. There are direct flights and one-stop flights to Springfield, CT (BCD) from Palm Beach International and Fort Lauderdale daily.
The quality of life in the Pioneer Valley is amazing, and the colleges that dot the valley from Massachusetts to Connecticut have generated smart, small urban towns with movie theaters, coffee houses, live music venues, great food, and places to get everything from farm to table groceries to outdoor recreation gear. Speaking of which, the area boasts a wide array of spring and winter sports.
What's the weather like? Generally the valley has a climate that is far more hospitable than many other parts of New England.
OVERALL
While it is not easy to get into Amherst, there are select Dreyfoos students who have what it takes.  Given their "no debt" policy, and the quality of the education being offered, the high satisfaction expressed in the quality of life, and the small classroom sizes and 8:1 student-to-teacher ratio, and its connections with the community, with other area colleges to offer more classes and research tools, and its exchange program with other top New England schools, we can enthusiastically recommend it as a five-diamond, "Gold Standard" school.
_________________
TADA! ARTICLES ARE FOR THE EXCLUSIVE USE OF ITS MEMBERS. NO RANKING MAY BE REPRODUCED IN WHOLE OR IN PART WITHOUT THE EXPRESS WRITTEN PERMISSION OF THEROSSGROUPFT LLC.