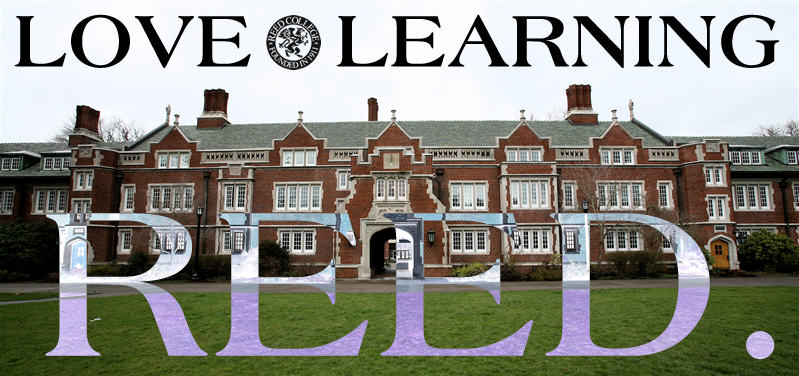 Type: College
Size:  Small (1,430 Undergraduate; 23 Graduate);
Style: Gold Standard School/Mini-Ivy
Honors College: N/A
Affiliations:
Student Body: Undergraduate  (1453 Students)
Testing: SAT: 1930-2210;  ACT: 29-33  (SAT/ACT Optional School)
Admissions: Applied: 5,396; Accepted: 1888  (34.9%); Class Size: 421; Early Decision 70%
Average GPA: 3.9 (70% over 3.75)
Students of Color: 18.96%
Male-Female: 46.5%-53.5%
Student-to-Faculty Ratio: 9:1
Freshman Retention Rate: 90%
Freshman Graduating After 4 Years: 66%
Attend a Graduate School within 10 Years: 70%
Princeton Reviews Return on Investment: 90%
Travel Cost/Time/Airport: Low to High (PDX): 6–8 hours; Average Fare: $200 one way
Location: Portland, Oregon
Best For: Non-Music, Music History, Ethnomusicology, Music As Calling Card
Reed College
One of the "little ivy" schools, where students write a thesis paper to graduate, it is not surprising that Reed after CalTech, Harvey Mudd and MIT produces the fourth largest batch of Ph.Ds and MDs in the nation, and leads most schools in the number of students who go on to get their masters and/or terminal (Ph.d or JD) degrees in other subjects. To call this school amazing, for bright, interesting students,  would be something of an understatement. Steve Jobs dropped out of Reed, but hung around for another year of auditing. We wouldn't have computer fonts, as we know them, had he not fallen in love with Reed's calligraphy course. If you want to be in a small liberal arts college that skews towards the STEM, sciences, engineering and math, filled with people who can and will change the world, you can find few better places.
Location
Reed is located in Portland, Oregon, one of the best towns in America to go to college. Ranked the #3 best town in America to live and work by Forbes, Portland is not too small, not too large. It is a foodie town, with exceptional mass transit and a major international airport. It's a wonderful place for people who love the outdoors. You can kayak, canoe, fish, hike, bike, surf, sail, or jog. It is an area full of eclectic neighborhoods, coffee shops, bookstores, and stores. Portland has some of the best mass transit of any city in the United States, with modern street cars, buses, and commuter rail.  There are several colleges in the area, so there is a vibrant social scene and nightlife for college-aged people.
The campus is across the river from downtown Portland, up the hill in a neighborhood full of old growth trees and stately homes.
For parents who worry that Reed is too far away, remember that it can and does take less time to get across country, where you have options for connecting airports like Atlanta, Houston, Chicago, and Denver, than it takes to get into many cities in the Northeast. Further
Diversity
Diversity has been an issue for Reed. 60.46% of its students are caucasian. Only 2.2% African-American, and 5.3% Asian, and an 11.46% Hispanic population are well off college averages and even low by the community's population base. Portland, Oregon' has an African American population of 6.3%; Asian is 7.1%.
The good news in this department is that Reed has a formal commitment to Diversity via Office for Institutional Diversity, which works closely with Reed's chief academic officer to achieve greater diversity.  They seem to be walking that walk in the Admissions office. Milyon Trulove, their admissions director, has a staff that is extremely diverse. That hopefully should bode well for future minority applicants.
6.88% of the student body is international, from 46 countries. Here, in terms of diversity, Reed is able to attract a fairly wide group of students from around the globe.
Their gender representation is pretty typical of most little ivy sized colleges with women making up a slightly larger proportion of the class.
92% of Reed students are from out of state. California, Texas, Florida, and the Northeast are its heaviest draws.  Reed pays attention to Florida.
Academics
Reed believes in learning for its own sake. It doesn't believe in grades. They give them, as a matter of having the necessary comparatives for graduate school, but they don't report them to the students unless they ask for them, or they are performing at a sub-par level that might threaten their continued enrollment.  It may seem like a small thing, but the lack of grade obsession, so common at most American colleges and universities, is not a consideration here.
The curriculum is structured around the school's distribution requirements (DR) of specific groups of courses in math, the humanities, etc., that must be completed for a particular major. Those DR classes form a substantial portion your coursework for the first two years. Freshmen and sophomores must complete two courses in each of the four major divisions of the college. Humanities 110 is required for all students. Other than that, there are no specific courses required, and there is plenty of room, within the boundaries of the type of course needed, to find courses that satisfy your curiosity or need.  A full list of majors and courses can be found here.
Reed does not engage in grade inflation or deflation.  The school's alumni have racked up an impressive set of awards including 31 Rhodes Scholars, second most of any undergraduate college, and 2 Pulitzer Prize Winners.
The school works for liberal arts majors, those interested in the political sciences, and, most of all, STEM-related classes perfect for the aspiring scientist or engineer.
A Mini Ivy, all students work towards completing a thesis project in their senior year in their major. Some "Reedies," dual major (See the Reed Secret, below) and will complete two.
You can also create a hybrid major, with the approval of the faculty of both departments. This is, in part, why so many students go on to get their masters, and terminal degrees.  Many will continue to pursue the area of interest for the thesis that they begin at Reed.
Neuroscience is a more recent interdisciplinary addition to the Reed academic majors list. They have responded to their area's big industry, forestry,  with a Forestry-Environmental Sciences interdisciplinary major, and rather than tell people that they can take all of the coursework needed to go to medical or veterinary schools, they now have their own label, like so many other schools: Premedical and Preveterinary Program.
A limited number of students can pursue a Master of Arts in Liberal Studies.
THE REED SECRET:  Reed has a really cool program that isn't available at a lot of colleges of any size. They offer what are called "3-2" (dual degree) programs.  You get a bachelor's degree from Reed in three years, then earn a professional degree (masters) in engineering, computer science, or forestry from a cooperating institution in two years at schools like Caltech, Columbia, Duke University, Rensselaer Polytechnic Institute, the University of Washington in two additional years.
With a 9-to-1 student to teacher ratio, and a 16 student average classroom,  you are getting the kinds of one-on-one, mentoring relationships that academia, before the days of the McMega campus, was intended to foster.  If you want to work with professors who will materially shape and transform your life, this is one of the places that you come.
That is only a small part of the Reed story. Your best calling card is if you are, or desire to be, an outside-the-box thinker. Reedies challenge assumptions about the status quo, and they are actively engaged in shaping the world around them. Even while they're in school, Reed students' summer projects, study abroad, and internships are significant. One student who was acting as an admissions representative a couple of years back was developing clean water programs for her home country, and had enlisted students in engineering, chemistry, and forestry to go home with her to Africa to spend the summers making an impact in a drought-plagued community's ability to survive.
All of this may be why Reed's graduates are some of the top "core class" members of America's best graduate schools, medical and law schools.
ARTS
Arts performed at a high level are a great calling card that can make you a useful person to Reed's arts departments.
Music
There is a thriving music scene in Portland, so if your dream is to be part of anything from the popular music scene, to a rock band, rap, hip-hop, bluegrass or newgrass, then you are in a good place.
Reed has a music program for some interests, and lots of performance opportunities that can be your ticket to a niche in the life of the campus.
If you're into composition, ethnomusicology, history, or theory, then you can major here and find yourself well positioned for the places in academia where your career will take you.
Reed has several performing ensembles, including an orchestra, a jazz band, a choir, and chamber music, so music as a calling card is definitely an option here.  Reed offers private instruction in vocal and in a wide variety of instruments, classical and jazz.  Contact the music department faculty for questions about the academics, and the private instructors for instrument-specific questions, or perhaps to arrange a lesson when visiting Reed.
THEATRE
Reed's Theatre program offers majors in Theatre, and interdisciplinary majors of Theatre/Literature and Theatre/Dance, and a few are put together by students who can justify interdisciplinary majors that make sense to the faculty like Theatre/Classics, or Theatre/Anthropology.  This is not a "destination" theatre school, but if you are uncertain about what direction you want to pursue with your life, and you are a great student, you have the opportunity to explore and decide in college.
DANCE
Their curriculum includes choreography, improvisation, critical dance studies, dance history, Latin American dance, and Southeast Asian dance. They offer dance technique classes for modern/contemporary, ballet, Afro-Brazilian, Argentine Tango, hip-hop, and lyrical jazz. The dance courses are open to majors and non-majors, so, if you don't want to dance as a major or minor, but you want to continue dancing with your academic pursuits, this may work well for you.
On top of the campus programs, Reed offers dance-intensive exchange programs for students interested in studying abroad.
DANCE-THEATRE
The hybrid major is geared towards preparing you for graduate work. You study performance, choreography, directing, and dramaturgy, or you can do a track of historical and theoretical research without a performance component.  If you want to go into this hybrid, it is highly recommended that you contact the faculty and get to know it better BEFORE you make your application.
ART
Art is inclusive of Art and Art History. The school's facilities are above average, but not exceptional. The students, however, produce some exceptional work, and, in a small school, it's not a-typical to see 15-20 seniors doing thesis (capstone) projects.
Athletics
Reed has a lot of sports, but doesn't participate in active collegiate competitive sports much. You're more apt to see Reed students canoeing, kayaking, hiking, biking, etc. They offer a variety of club sports, including rugby, soccer, Ultimate Frisbee, basketball, squash, rowing, and curling.
Housing
The majority of students live in on campus, although you can live in off-campus housing. Most students don't want to.  The small college has 26 different dormitories and living spaces, and a wide array of living styles (quiet floor, all female, language intensive, etc.). A couple of the older dorms are quaint and highly sought after. The Harry Potteresque housing sports stonework, working fireplaces, etc.  The more modern dorms are built with lots of common space for people to study and socialize together.
Quality of Life
Reed enjoys an amazing quality of life.
Portland, Forbes #3 top city to live and work in, famed for its fogs, never gets bitter cold or exceptionally hot.  Snow happens rarely. Average temps run from the high 30's in the dead of winter to the mid-seventies in the peak of summer.
Off Campus: Portland is one of the great foodie capitals of the world, with the downtown parking lots ringed with start-ups in carts with everything from Georgian dumplings to Ethiopian food to some of the best BBQ you may ever experience.  There are lots of coffee houses, cool places to hang, and, oh yes, a river runs through it. Literally. River sports, ocean sports, mountain sports are all within easy reach.   For mom and dad, Portland has one of the top state-of-the-art hospitals, so when the dragons that dwell West of the Mississippi, at the edge of the flat Earth, come to devour you, you will have exceptional care.   Sports fans can rally around the NBA's Portland Trailblazers, and MLS' Portland Timbers, one of the hottest tickets in sports on the West Coast as Timbers fans are awesome!
On Campus: Reed is an amazing mix of extremely bright, motivated, interested and interesting people. It's size allows for one of the best academic environments in U.S. education, with professors very passionate about educating, and students who love to learn.  That may explain why so many of the nation's top university academics got their start at Reed.
Reed has one dining hall, the Commons.  It offers a wide variety of dining options. With numerous vegan and vegetarian options alongside the traditional fare.
Reed is awash with clubs and social groups of all kind. They have their own variation of Walden Pond, in the rear of the campus, where the environmental, biology, and forestry students hold court.  More than 100 student groups sponsor activities that have clever names that range from ARG! (The Association of Reed Gamers) to the Concrete Owl Theater Company to mens and womens' Rugby clubs, to The Mill, the Reedies' comic book reading room.
"Reed College has so special and admired a place in higher education that if there were no Reed someone would have to invent it. There is such wonderful attention to the life of the mind and at the same time to caring about humanity."
–Hugo Sonnenschein, president emeritus, University of Chicago, 2005.
Study Abroad
Reed is a member of the International 50 Liberal Arts Colleges, which is well, more like 52, or 55 depending on how you look at it.  Reed has partnered with 52 universities and programs in 23 countries and territories, as well as 3 domestic colleges and universities to provide opportunities for off-campus study.  As with most schools, there are majors where study abroad credits will not translate, so you will either spend longer in school, or be in a major that works for your SA aspirations. Always good to ask the department of your prospective major how they feel about Study Abroad before you commit to a school if this is something important to you.
Outcomes
Reed students do amazingly well in the world. Reed publishes a list of graduate schools and the top posts of industry that their alumni inhabit.  You make friends at Reed that become the backbone of your life's work connectivity.  Their medical school acceptance rate runs at 70% currently, historically at 80% overall.   It is the #4 school in the nation for producing Pd.Ds in the sciences, mathematics, and engineering.
Costs
Reed, for tuition, room, and board, books is $65,900 ($51,850 tuition, 13,150 Room/Board; $900 for books) for the 2016-2017 school year.  Most students live on campus in their freshman year, but Reed has no on-campus living requirement. Students can split living space and meals outside campus, but it will run slightly more, about $15,900 or so per year, more if the student remains in the summer months and doesn't sublet.
To help you see what you might expect to pay, Reed has partnered with the College Board to create a cost calculator, that you can plug in your own personal situation to, and see what you might pay.  The number is highly funded though, so pick your parent(s) up off the floor and read on about Financial Aid, below.
Transportation costs:  Typically transportation is to Fort Lauderdale (FLL) from Portland (PDX), and will run around $180-$289 one way. Joining a frequent flyer program or programs works well, as does having an airline credit card to put anything you buy on, and pay it in full at the end of the month. Points accumulated from the cross-country miles plus the credit card miles earned can cut the cost of annual travel in half. We estimate $1,200-$1,700 travel per year, based on four round trips (Beginning/End of School; Thanksgiving/Winter/Spring Breaks)
Additional costs:  $300 in fees. They estimate about $900 a year in out of pocket costs.
Financial Aid
Reed will meet 100% of the demonstrated need if you are admitted, for all four years, through a blend of scholarships, grants, employment opportunities, and loans.   50% of students qualify for aid, and received, on average, $44,147 in direct assistance in 2014, and they use both grants, which you don't have to pay back, and work-study to make up a big chunk of the difference. Even with the high overall tuition, the average Reedie graduated with $19,151 in total debt in 2014.
That equates to about $4,788 per year in tuition/housing that were not covered for the "average" student, with books and travel, perhaps as much as $6,888 for a Florida student traveling to/from Portland.
Some with less financial need paid more, and those with the most need paid significantly less.  Apply for third-party scholarships in your junior and senior years, and the total amount of debt could be zero, or equal to what one might pay as your portion of the bill for an in-state school.
Alumni
Reed alumni are almost as famous as Reed's many temperamental geniuses who dropped out. Many of the nation's top academics got their start at Reed. Grads include:
Chaos theory physicist Norman Packard
James Russell, Inventor of the Compact Disc
Dr. Demento – Radio Personality
Norton Utilities' Peter Norton
Larry Sanger (Co-Founder, Wikipedia)
Writer/producer Eric Overmyer (The Wire, Law & Order, Homicide)
Poets William Dickey and Pulitzer Prize winner Gary Snyder;
Apple's Steve Jobs, Actress Hope Lange, and Musician/Arranger/Movie Composer Ry Cooder are a few of Reed's famous drop-outs.
One of the world's most famous chefs, James Beard (Of the annual James Beard awards for cookbooks) was expelled!
 A list of notables on Wikipedia
Admissions
We strongly recommend, if you have a real interest in applying to Reed, that you:
Attend all Reed Admissions opportunities between your sophomore and senior year to interact with the school;
Visit the campus, or arrange the overnight visit (Juniors/Seniors 17+);
INTERVIEW with Reed (In the year that you apply). It's one of the few schools that still engages in that important part of the process.  These are available on campus or with recruiters working your area. Apply EARLY to make sure you get an available slot.
If you are serious about Reed as a first choice, apply under Early Decision I. If it's a strong second choice, apply under ED II. Both are BINDING.
Reed is a Common Application school. There is a Reed Supplement.
Visiting Reed can be done two ways. Through the standard campus tour, or, if you come during the Fall and are a junior or senior 17+, you can sign up for an overnight stay on campus with students, who will also take you for a day in the life of a student at Reed.
You can find out more about applying to Reed here.
Conclusion
We award Reed College 4 diamonds out of a possible 5:  One diamond for quality of life .  A diamond for education for their passionate faculty, excellent course offerings, and the high value that their students hold with the nation's top graduate schools.  They lose a diamond for diversity because, at the moment, they still lag behind the national average and their representation of African-American students in particular, even with their diversity protocols, is unacceptably low.  We give them a diamond for cost & financial aid because, while their tuition has been rising, they find ways to keep the student's overall debt very low. Add a diamond for their admissions process. With interviews, it is old school personal and hugely fair. Overall, this is another of the best schools in America and provides a big bang for the buck.
TADA! ARTICLES ARE FOR THE EXCLUSIVE USE OF ITS MEMBERS. NO RANKING MAY BE REPRODUCED IN WHOLE OR IN PART WITHOUT THE EXPRESS WRITTEN PERMISSION OF THEROSSGROUPFT LLC.