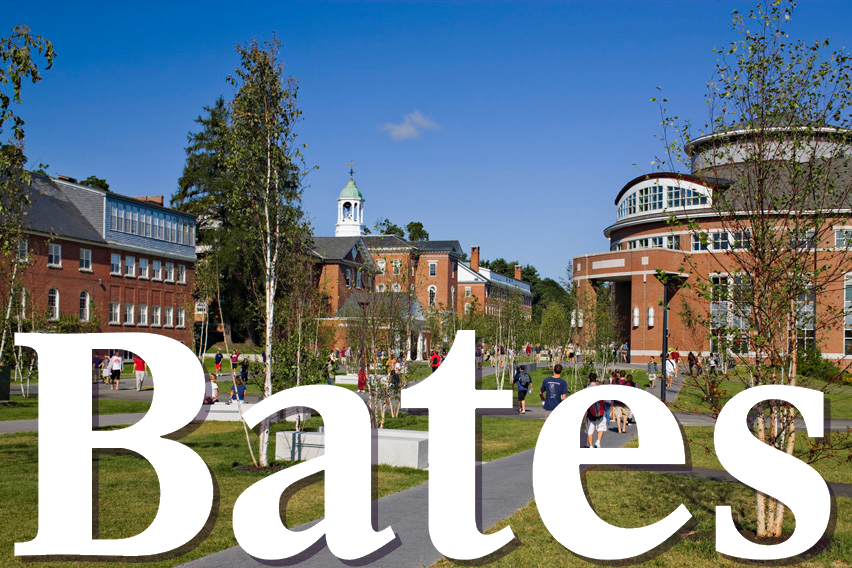 GOLD STANDARD SCHOOL / MINI IVY

Type: College
Size:  Small (1,791 Undergraduate);
Style: Liberal Arts with Thesis/Capstone
Honors College: N/A
Affiliations:
Student Body: Undergraduate  (1773 Students)
Testing: Test Optional 
Admissions: 21.6% (Class Size 517); Early Decision 51.1%
Students of Color: 22.8%
Male-Female: 49%-51%
Student-to-Faculty Ratio: 10:1
Freshman Retention Rate: 94.6%
Freshman Graduating After 4 Years: 83.5%
Attend a Graduate School within 10 Years: 70%
Princeton Reviews Return on Investment: 90%
Travel Cost/Time/Airport: Low to High (BOS); Med to High Portland (PWM)/5-7 hours
Location: Lewiston, Maine
Best For: Non-Music, Music As Calling Card
Bates College
One of the "mini ivy" schools, where students write a thesis paper to graduate, it is not surprising that 70% of students who graduate from Bates College go on to graduate school, or that most take a year off between. Bates has a phenomenally high number of Fulbright Scholars (2016 – 72 students, a little over 17% of the graduating class.
By contrast, most schools 10 time its size are delighted when then have three or four.).  It's a challenging education that transforms students into some of the top graduate candidates for their fields of study because most have intense one-on-one time with faculty who still see their students' success as a sign of their own success.
Students who love to learn and want to be involved in their life's pursuits with drive and passion find a great home here, which is why they have one of the highest retention rates of any college or university. Professors often facilitate the thesis process by channeling these theses so that they make them more appealing as the basis for masters thesis, which can not only aid getting into top graduate schools, but can shorten the time that it takes to get a masters and/or terminal degree (Ph.d.,MD,DVM,JD, etc.).  
Location
The campus is pretty much perfect, with a nice mix of new construction and older buildings and a dining Commons so good that many locals pay to eat there as well from time to time.
If you like outdoor sports, particularly winter sports, Bates is located in an area with rivers for kayaking, lots of hiking, camping, and, during the winter, all winter sports.
Speaking of winter, you should visit Bates from January to March because it is Maine and Maine can be very cold and snowy. The weather is cool to cold much of the school year. If you love it, as most who go there do, after visiting it in the bottom of Winter, then it may be for you.  The school has a week winter break in February every year which students can use to head home, get some work done, or go skiing.
The campus is at the edge of Lewiston, Maine, about 45 minutes by car North of Portland, Maine.  Lewiston is a slowly recovering former industrial mill town that is not particularly Bates friendly, but Auburn, which abuts Lewiston and is closer to Bates, likes students and their money just fine. Freeport, headquarters of LL Bean with their mega outdoors store and a bunch of good restaurants and shopping, is 15 minutes down the road. Brunswick, home of Bowdoin College, is a few minutes away and Portland is a very hip town that can be accessed by car or bus.
Air travel is to Portland, or Boston if Portland's airfares spike. PWM is a small airport, and the airlines know when the schools, Bates, Bowdoin, Colby and UMaine, go on breaks, and jack the rates up. Boston is too big to do this. There is an inexpensive bus service to Boston airport out of Portland with wifi, and Boston is too big for the airlines to game like that. Instead of a two-leg flight, you get a bus and a nonstop to Florida at times. No extra time is expended.  Bates is aware of the problem and offers a few extra days off for Thanksgiving, which is usually the worst travel time, to allow students to find affordable ways home and back.
Diversity
Bates is the "walk-the-walk" school on diversity. They admitted women and African-Americans very early in their 150 year history. Dr. Benjamin E. Mays, the president of Morehouse College when Martin Luther King, Jr. was a student there, and considered by many to be the father of the American Civil Rights movement, graduated from Bates College in 1920.  Consider the words of Congressman John Lewis, who worked with Dr. King, from a commencement speech in 2016…
In terms of racial diversity, 22.8% of students at Bates are identified as non-white, and their populations of African-Americans (4.79%) and Asians (4.62%) may seem a bit low, but Maine's populations are 1.2% and 1.4% respectively, so, by our yardstick of how representative of the makeup of their community they are, they are almost 4x above their state's demographics. Lewiston has a thriving Ethiopian community and the general minority representation around the colleges is generally good.
Geographic diversity advantage for Florida students: Only 5% of students come from the Southeast. It's a number that Bates would like to improve on, as they would with their midwest recruiting, so, unlike most Northeastern schools, you get a bounce for being from sunny Florida.
The school is always looking to improve its diversity numbers, and has done so gradually over the last few years, so students of color will find that it can be a plus along with the geographic advantage.
Athletics
Bates is a Division III NCAA school, so, for those who have been involved in athletics and aren't being wooed by DIV 1 schools, you may find a home in one of the more competitive DIV III schools. Their athletic facilities are excellent, as is their general gym for the student body's use.
Academics
Bates has 218 in faculty, 100% of whom are tenured or tenure-track and possess the top degrees in their field. They teach 2000 students, with courses in 33 majors and 20 minors with an approximate 10:1 faculty-student ratio. 97.2% of seniors completed the thesis needed to graduate in 2011–12.
The numbers are great, but they don't really tell the Bates story. This is an undergrad-only school with some of the best faculty in the nation. The faculty is not working here to publish with a sideline of teaching. Inspiring and educating are job one. It's a part of the school's academic culture, which was once commonplace at America's higher educational institutions but now should have Endangered Species stamped on the gates of places like Bates that provide students with an opportunity to explore who they are and what they want to be.
Bates is one of the most academically rigorous schools in the nation. It is a "mini ivy" in that some of the world's top graduate programs actively seek Bates grads.  Senior year is busy, with work on your thesis added to your class load. Most students try to take more in their sophomore and junior years to lighten their load for senior year.  Wherever you go from here, Bates grads are highly qualified and well-trained to deal with the best graduate studies programs in the world.
Music
Bates has a small music program, but here is where, for students who are looking to go into something else but play exceptionally well, the music is a big plus for admissions. Bates has its orchestra, strings, and a decent variety of Jazz courses, plus world music, from steel pan to gamelan. Your high level skills as a musician learned at a performing arts high school are a plus for Bates admission.
Housing
Everyone lives in school housing, and housing and meals at the Commons, which are excellent, are included in the tuition. The school has developed a lot of new housing over the last decade which is state of the art, with common sitting areas, modern laundry, etc.  Many of the older students, though, still prefer some of the older houses that Bates owns.  Housing in your freshman year is in the freshman dorms near the sports fields and the commons. It's a way to get you acclimated to the school.  Housing can be requested by groups for quiet, speaking a language, etc. The only students who get "pinched" in housing are the sophomores and juniors, as there is some juggling of the students doing Study Abroad so, until they commit, there are occasionally delays in housing requests while the housing office sorts out who will be on campus and who will be away. Everyone still finds a space. Sometimes it just takes a bit longer.
Quality of Life
Students enjoy an exceptional quality of life at Bates. The housing is top-tier. The food is as well. There are sporting events, movies, music, and lots of guests brought in for lectures in areas of student interest whose lectures are well attended.  There is both a party scene, and plenty of space for people who march to the tune of a different drummer.  There are no Greek organizations at Bates.  The size is ideal to foster an exceptional community on campus. Off campus there cool places to eat, movie theaters, bowling, and concerts in Portland, Freeport, and the Common Ground Country Fair, which many of the students travel to annually.  LL Bean offers free concerts for the summer that last into the beginning of the school year.
Study Abroad
Offered but not really encouraged in a lot of departments. Foreign school credits don't translate well for some majors. At a minimum, it can add a semester or a lot of stress in the semesters after it making up the difference in the credits. If it is important, make sure you plan to increase your class load a bit in your sophomore year to help offset the semester abroad.  If you choose to double major, forget about it, and travel to the country of your choice with a field study group or some other project over the summer.
Costs
Bates is currently $62,540, inclusive of housing & food. Add about $1290 for health insurance if you don't have a plan that can be used in other states. Books run about $800-900 a year max, but you can save by using used textbooks and book buybacks. On average, Bates funds about $36,387 about 58%, but it all depends on your FAFSA score. Some get a lot more, and those in a higher income bracket will be paying full ride. Bates does not give out merit money.
Tuition has been going up at about a 3% rate for the last four years, and is consistent with the tuition increases at other similarly sized schools. Bates doesn't hire a lot of adjunct professors, who are usually cheaper, so money is being plowed back into your education.  Princeton Reviews gives them a solid 90% return on investment.
Transportation costs: You will have up to 10 flights a year for your student, and probably a couple for yourself.  Some of the cost can be offset by using a mileage credit card and paying it off in full on all kinds of things that you might normally pay cash for.  Southwest and JetBlue are two of the airlines that serve Portland, Maine. Typically you can whittle off one or two trips a year or more. Save them for peak periods at the holidays. Bates offers an early exit for Thanksgiving, so the fares are $140-180 one way, but the trip back can be expensive. $330 on a Saturday, and Sundays are usually not doable at $700-800 even months out.
Additional costs: The occasional shared pain bills and lab bills. If someone destroys something in a dorm, say a washing machine, the cost is assessed fractionally to everyone in that dormitory if no one is found to be responsible.  It happens at least a couple of times in your student's time at Bates. Lab fees are minimal but if you're in the sciences, plan on it costing a few hundred dollars more over the four years.  Hotels in the area are limited in number unless you stay in Portland and drive up.  Move in and move out, and graduation tend to be high rate times in Lewiston and Auburn, and, for graduation/move out, often the hotels will require booking months early and money up front.  You can find good rates sometimes in neighboring cities like Freeport, with the added bonus that they are nice places to stay while you're visiting.  Storage space is plentiful and cheap for summers when you need to put dorm rooms into hibernation.
Financial Aid
Bates makes a commitment to fund students access to their education. They have a 10 month payment plan and they claim that student debt, at $15.5K, is below the national average of $29,400, but that is a bit misleading as that average includes high debt schools like Kaplan, Strayer, and others.  By contrast, similar schools like Bowdoin and Haverford have no loans.  The best way to determine if the school works for you financially is to have a discussion with their financial aid office.
Alumni
Bates alumni have done some amazing things. A list of notables on Wikipedia
Admissions
Bates is test optional, so if you are a great student but your test scores don't tell the story, apply to Bates without an ACT or SAT report. They focus heavily on your school transcript instead.If you have killer SAT/ACTs, send them along.
If Bates is your first or second choice, be sure to apply Early Decision or ED2. 51% of their students are admitted ED/ED2.
Bates is highly selective at 21.6% for this year's class. They have upped the class size a bit, but that is the variance of who is accepted that decides to come, not a systemic increase.
The school tracks your interest, so sign up, and go to any events that they offer in Florida. Go to see the college, and schedule an interview. Interviews are one of the best ways for a college to learn more about you.
Conclusion
We award Bates College 4-1/2 diamonds out of a possible 5:  One diamond for quality of life because the campus is the perfect size to maximize your college experience, the physical plant is in top form, vibrant arts and team sports, and the food and services offered are some of the best you'll find at any college.  A diamond for education for their passionate faculty, excellent course offerings, and the high value that their students develop in the search at America's best graduate schools.  They earn a diamond for diversity because they exceed the state's diversity by several fold, and even though their numbers are small, continue to encourage their growth.  We give them 1/2 a diamond for cost & financial aid because their tuition has been rising and the amount of debt that many students leave with is a couple of thousand dollars higher than we would like to see.  This is one of the top test optional schools, and its admissions process, with interviews, is old school personal and hugely fair. Overall, this is one of the best schools in America and provides a big bang for the buck.
__________________
TADA! ARTICLES ARE FOR THE EXCLUSIVE USE OF ITS MEMBERS. NO RANKING MAY BE REPRODUCED IN WHOLE OR IN PART WITHOUT THE EXPRESS WRITTEN PERMISSION OF THEROSSGROUPFT LLC.