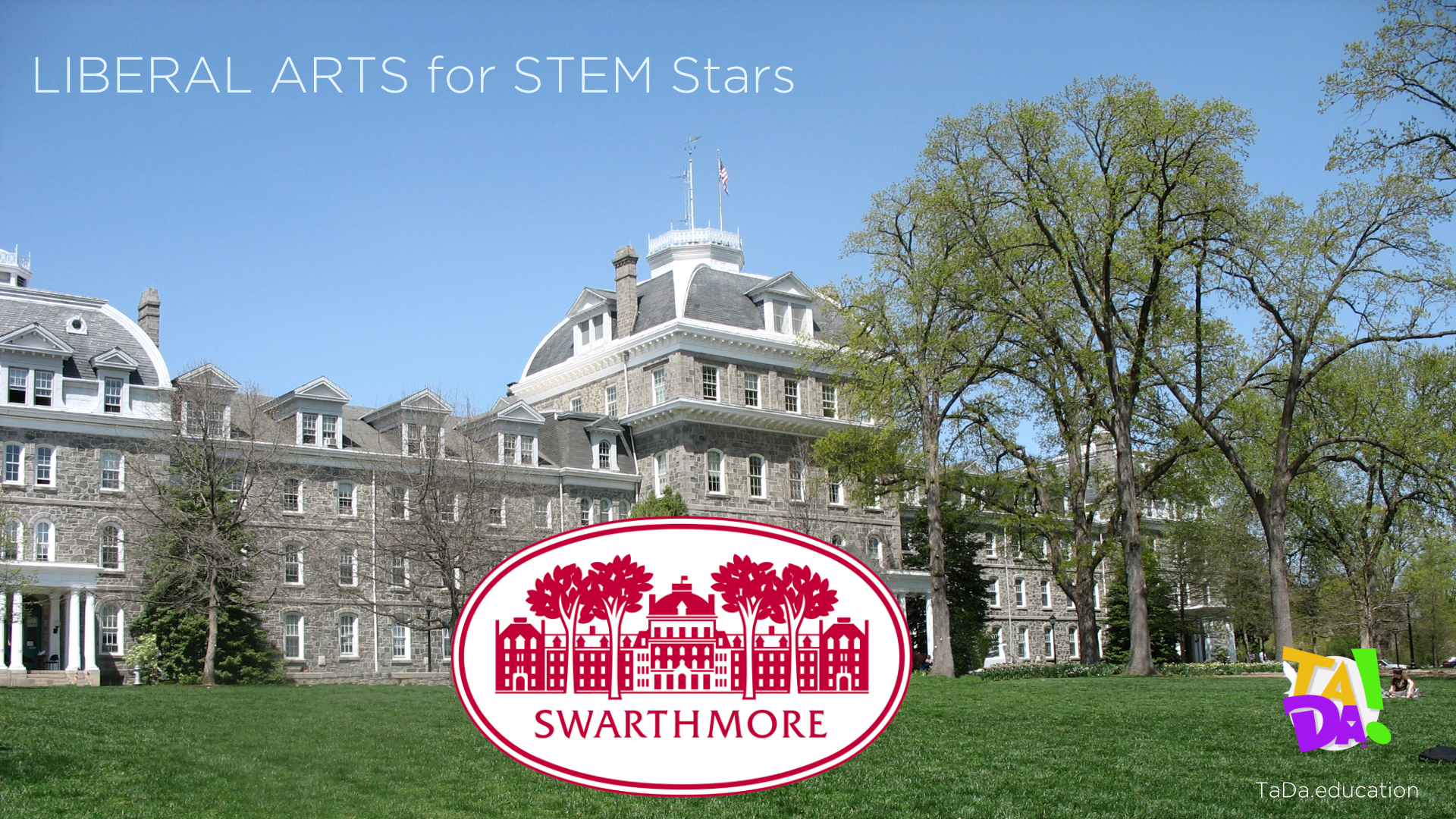 GOLD STANDARD SCHOOL

Type: College
Size:  Small (1,791 Undergraduate Only);
Style: STEM-Weighted Liberal Arts with Thesis/Capstone
Honors College: Yes
Affiliations: Tri-College Consortium (Haverford/Bryn Mawr); University of Pennsylvania
Student Body: Undergraduate Only (1620 Students)
Testing: SAT/ACT 
Admissions: 13% (Class Size 415); Early Decision 33%
Students of Color: 36.8%
Male-Female: 49.5%-50.5%
Student-to-Faculty Ratio: 8:1
Freshman Retention Rate: 98%
Freshman Graduating After 4 Years: 87%
Attend a Graduate School within 10 Years: 80%
Travel Cost/Time/Airport: PHL (Philadelphia) /3-7 hours
Location: Swarthmore, Pennsylvania
Best For: STEM, Liberal Arts,  Your Art As Calling Card
Admissions Interviews: Yes
SWARTHMORE COLLEGE
IN BRIEF
Don't let that "liberal arts" label fool you: Swarthmore College is a liberal arts college with serious STEM leanings, including a top-20 engineering program, unusual for an LA college.
With small class sizes, amazing faculty, they generate top scholars who are among the most sought-after for the world's best graduate schools. If undergrad is the end of your line, expect some amazing job offers from America's best companies, because Swarthmore's alumni "mafia" is vast, established, and powerful.
In terms of value,  Swarthmore is  one of The Best 382 Colleges, and noted by Princeton Reviews as one of the Top 50 – Colleges That Pay You Back.
Colleges all have a personality. Swarthmore's is kind of smart, fun, and a little… kooky. The Admissions info-session that we took in 2017 was one of the funniest, more truthful, and enlightening that we've experienced. Who said that this process shouldn't be a little fun?!
There were hundreds of protest signs planted in the lawn in front of the main building on a cold day in March. The students weren't angry about anything. They were affirming that everyone is welcome at Swarthmore, after the news was full of anti-immigrant rhetoric. Rooted in Quaker history, since 1864 this private, nonsectarian college has been one of the most diverse and welcoming campuses in the world.
LOCATION
Swarthmore College is located on a 425 acre campus in Swarthmore, Pennsylvania, population a bit under 7,000, a small suburban town about 11 miles southwest of Philadelphia. It's fifteen minutes by rail from Philadelphia International Airport(PHL), and 30 minutes, on the same line, to downtown Philadelphia. The train station is right at the base of the campus.
The school backs up to Crum Woods, which features 3.5 mi. of biodiverse woods & trails. It's a short drive or bus to the Delaware river, and there are many local lakes. There are a nice variety of restaurants, coffee-houses and breakfast joints. and small businesses in Swarthmore.
Cities blend and overlap in most of this part of Pennsylvania. There is larger "box store" shopping in the towns around it just a few minutes from campus. You won't want for much.
THE VIBE
Swarthmore students, "Swatties," are a very energetic, pleasant, engaged and engaging bunch.  All of our conversations with students on campus were quite, well, wonderful.  We didn't find the students who couldn't be bothered. Pretty much any Swattie that you engaged in conversation was interesting, involved in something, and very happy to share their affinity for their school.  It was something more than that, though. There is a huge sense that "belonging" in an independent constructive and positive way, creates a wonderful community to live and learn in. That, along with small classes, and access to a consortium, makes attending Swarthmore an exceptional educational and life opportunity.
DIVERSITY
One of the best class compositions, year-in, year-out of any school of which we know. The Admissions Office does an excellent job of pulling together very balanced classes.  Women slightly outnumber the men on campus, but it's close to 50-50.  Roughly 37% of the student body are persons of color. About 10% are international students.
ACADEMICS
Swarthmore's stellar 8:1 student-to-faculty ratio and a faculty where 210 of the 220 educators hold a terminal (Ph.D or equivalent) degree. For a small school, Swarthmore already gives an exceptional and personal education to every student, but they go one step further: Their Honors Program is run similar to an English-model like Oxford or Eaton.
Students, as seniors, create "capstone" proects that, if they put them together intelligently, can form the basis for a proposal for a Masters' thesis. One of the different things that about Swarthmore's capstone process is the external examiners who come to campus to meet with seniors to review their work and discuss how to proceed with it.  The process prepares those seeking higher education with a preview of how the process works.
The school is a bit unusual for a liberal arts college in that it has an exceptional engineering program, #19
Swarthmore is one of the top producers of Fulbright Scholars, Rhodes Scholars, and many other prestigious academic scholar and fellowship programs.  There are more than fifty majors, including a "build your own."  Some interesting ones that you might not have thought about as a college major, like Cognitive Science, Interpretation Theory, Medieval Studies, or Peace & Conflict Studies. Click on the links to explore their courses:
CONSORTIUMS & AFFILIATIONS WITH OTHER SCHOOLS
With their affiliations with Haverford and Bryn Mawr in the Tri-College Consortium, and the University of Pennsylvania, if they don't have a class that you are looking for on campus, you're likely to find it at one of the three schools.
Swarthmore offers internships, externships, summer research, and, from time to time, students with specific research plans have been able to propose study that either involves working in research projects at University of Pennsylvania, or has faculty assisting students seeking grants for self-directed research. Each summer, the school hands out $800,000 or more in grants to pursue projects.
ARTS
Swarthmore has exceptional arts programs. Their proximity to centrally located Philadelphia, means that you can take a master class in New York, or be at the Kennedy Center in DC. It also means more guest artists find their way to Swarthmore. They seek out talented musicians, artists, filmmakers, actors, and dancers.
MUSIC
You do not  have to major or minor to participate in music programs at Swarthmore. They do not have a performance faculty, but they do match students with excellent private teachers, including many from Philadelphia's orchestra, and jazz scene. The school provides a subsidy,  in some cases up to 100 percent, for the cost of lessons. They also give academic credit for private lessons. Pretty chill.
DANCE
Swarthmore offers special scholarships for dance majors and minors to study specific styles with master faculty, working professionals and choreographers in Philadelphia and internationally. This is one place where double majors or special majors are welcomed, and not discouraged. You do not have to major or minor to dance.
THEATRE
Many distinguished alumni in theatre worldwide got their start at Swarthmore. They have good connections with regional, national, and international theatre programs. You do have to major, and you can apply for a "build your own" major that includes theatre, but they are not open to non-majors/minors.
FILM & MEDIA STUDIES
A more academic school for film and media, they do have limited production courses. The upside to their courses, though, are their small size. With 10 in a class, they compare better than NYU or USC for many courses, but lack of a substantial film/TV scene in Philadelphia can present a few challenges for those  who would benefit from working outside of school while studying in this field, although students use their summers to get their feet wet in the industry in Atlanta, Canada, New York, Los Angeles, and London.  This is a path where majors are encouraged.
ART & ART HISTORY
If you're on the fence about pursuing art in college, and you have great grades, then Swarthmore may be the right path to pursue. Philadelphia has a vibrant art scene, thanks to the Philadelphia Museum of Art and the right access to affordable places left behind by the Industrial Era that allow artists space to create.  This is a major/minor only. Most students find out if art is their passion within the first year of college. If Swarthmore continues to work for you, you will get an exceptional liberal arts and fine arts education, so stay. If you outgrow it, artistically, then transfers offer options to bring you back to the top arts schools, and your training at Swarthmore will have helped you become a more meaningful candidate for a RISD, Art Center or SAIC.
Athletics

Part of the Eastern College Athletic Conference, Swarthmore is an NCAA Division III school, with twenty-two varsity teams, and seven chartered club teams in:
MEN'S SPORTS
Baseball
Basketball
Cross Country
Golf
Lacrosse
Soccer
Swimming
Tennis
Track & Field
WOMEN'S SPORTS
Badminton
Basketball
Cross Country
Field Hockey
Lacrosse
Soccer
Softball
Swimming
Tennis
Track & Field
Volleyball
The school may be small, but it employs sixteen full-time head coaches. Twenty percent are involved in intercollegiate athletics at the D-III level. Forty percent of the student body participates in some kind of sports program.
Housing
Most students live on campus in student housing.  Only 5% do not. There are a variety of living situations, including college operated and affiliated housing, that function more like apartment living. Dorms range in size from an eight-person house to their biggest, a two-hundred person building. Dorms aren't segregated by class years. As "first-years" and sophomores most people share a room. Juniors and seniors most often have their own rooms.
For the smaller student population, the housing is more than adequate and the facilities are really nice relative to most other schools that we've toured. Only Bates College had better.  Check out their residential communities, which include opportunities to live with people with common interests, from languages to lifestyles.
DINING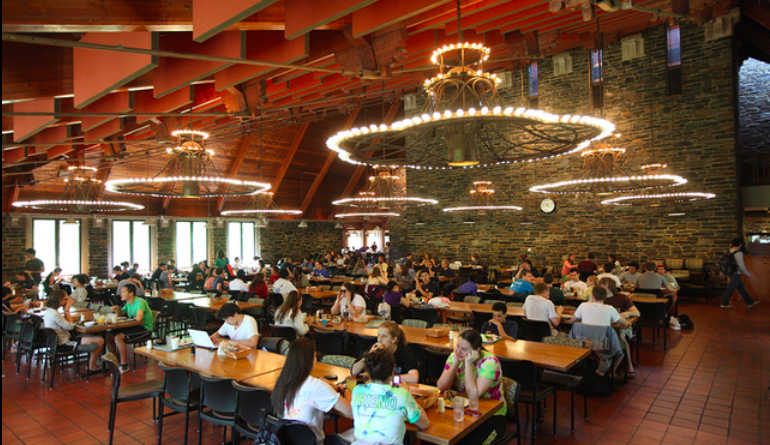 Sharples Dining Hall is one of the best dining commons in higher education. The students don't just like it. They love it! The dining hall rotates a lot of great food. In addition, if you can find at least 24 other barbecue junkies, the staff will, with advance booking, set up a barbecue for you and your club or gathering. They also bake birthday cakes for those whose freshness dating passes while they're in classes.
In addition, there is a snack bar/shop, and there are two coffee houses on campus. Across from campus, the town has more coffee places and great little restaurants to eat in, and there are a bunch, from your brand arches to cool little restaurants that cater well to student budgets nearby. On the weekends, or if you're doing work in the city or taking classes at Penn,  it's easy to go into Philadelphia and explore their food scene.
There are five different levels of meal plan, from unlimited to about 160 meals.
Quality of Life
If you like your arts high school, you will L-O-V-E Swarthmore. Yes, there are more than 100 clubs and organizations, but, the biggest thing about "Swat" that distinguishes itself is their tone. You'll see it in their brochures, and it continues into the school's daily life.  The day to day has a lot of academic rigor, but "Swatties" play just as hard.
There is a lot to do, but there is more than that. Swarthmore takes its diversity seriously, and presents a lot of opportunities for students to step out of their comfort zones and really learn more about other people that they may not have encountered in their day-to-day high school world.
Swarthmore's affiliation with the Tri-College Consortium opens up the opportunity for Swarthmore students to catch lectures, concerts and more at Haverford, Bryn Mawr, and U. Penn.
Study Abroad
About 40% of students study abroad over the summer, for a semester, or for a year. Not all majors make it easy, or possible. Many fifth year students are there because they wanted to study abroad but they had to spend additional time at school to fulfill all major requirements.
Costs
As Swarthmore notes: "Quite simply, we have the financial resources to provide an exceptional education to any student who is admitted. Perhaps just as important, we deeply value the range of perspectives that this commitment brings to our campus community. "  The sticker price for those of you who are in the upper tiers, the alt-minimum tax bracket: Total: $65,774. Everyone else can expect to pay substantially less. You absolutely can go to Swarthmore for less than you can go to even some state schools.
Academic costs:
For parents worried about sticker shock, Swarthmore is very much about demonstrated need. Their average aid award was $46,681 of the estimated full tuition of $50,424.00 for 2017-2018. If you make over $200,000/yr as a family, you will be looking at around $67,800 with average air travel thrown in. If you make far less than that, your demonstrated need will open doors at a far more reasonable costs
Housing & Food costs:
Room is $7,670, and Board: $7,282. That may sound like a lot, but, based on other colleges of their size, or in the area, or even several times their size, that's a downright bargain. Rent at $639/mo.? Compare to area prices for an apartment at $750-1200/mo.  Nearby Haverford's dorm fees run $1,200+ more, at $8,826. Check out their residential options.
Transportation costs:

Philadelphia is a major air and rail hub. There are a lot of nonstop and one-stop flights to the airport, code PHL.  A round-trip to Southeast Florida runs anywhere from $95 to $270 off-peak, and Philadelphia is too big of a market to put price spikes on typical college student travel dates.
Both local trains and the Amtrak Acela® high speed rail come to Philly. Regional bus lines and Greyhound also service Swarthmore, but most people not traveling by personal car use SEPTA.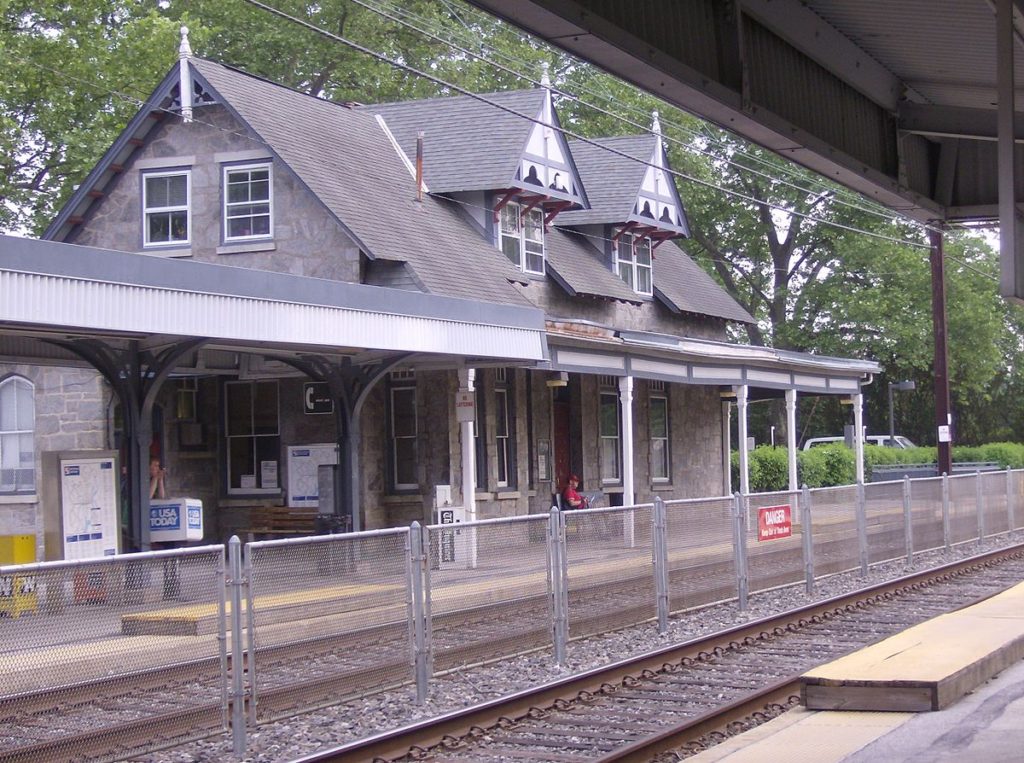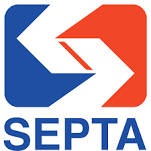 The Southeastern Pennsylvania Transportation Authority (SEPTA) is the area's public transportation authority. It operates the commuter line that runs out to the college. Trips into Philadelphia are covered under the SWAT Student Activity Fee.
Additional costs:
Swarthmore charges a Student Activity Fee of $398. It includes:
Laundry
Printing
Concerts
Participation in sports and other activities
Admission to athletic events
IT support
Late-night coffee and snacks at the library
Wi-Fi
Social events
Trips into Philadelphia
Lectures
Campus movie nights
Financial Aid
The school meets 100% of determined need, based on your FAFSA. U.S. citizens, permanent residents, and Undocumented/DACAs students graduating from a U.S. high school are eligible.
Swarthmore awarded $40m to nearly 60% of the student body. They received need-based Swarthmore scholarship aid that was made up of grants, which are not repaid, and work-study jobs on campus.
Alumni
You can't go wrong with Swarthmore for a great alumni mafia. Their graduates are just as engaged as they were when they were students. Swatties include 135 Fulbright Scholars, 30 Rhodes Scholars, 8 Marshall Scholars, 13 Luce Scholars, 68 Watson Fellowships, and 2 National Book Awards.
Check out their list of notables on Wikipedia.
Admissions
Swarthmore offers interviews. We highly recommend them. Request an interview appointment to get one.
Per Swarthmore:  "A committee of admissions deans reviews your application. First, at least two deans sit down together, review all of your application components, and discuss your strengths. We take into account what opportunities and resources you have had access to, your high school's curricula, your geographic location, your family background, and your cultural identity. If we believe you might be a good fit for Swarthmore, your application will move past the first review to additional reviews and discussions. By the time we offer you admission, your application may have been reviewed in as many as half a dozen committees, each of which considers the full context of your background, experiences, and opportunities."
Conclusion
Every college has its own personality. Swarthmore's is clever, quirky, caring, and always fascinating. The school is a liberal arts institution, but, with the extensive offerings in STEM and a top engineering school, it's that unique school that offers a lot for its total enrollment.
The facilities on campus are well kept up. The town is small, but not isolated, with a lot of places to eat, grab a cup of coffee or shop. With Philadelphia less than a dozen miles away, there is a lot of opportunity to get the big city experience of arts, culture, nightlife, and late-night Philly Steak sandwich runs.
Swat faculty and alumni are the kind of people who you want having your back in a world where large global forces like climate change, automation, and growing economic opportunity globally are going to change the way that we work and live.
It's a five star school.
__________________
TADA! ARTICLES ARE FOR THE EXCLUSIVE USE OF ITS MEMBERS. NO RANKING MAY BE REPRODUCED IN WHOLE OR IN PART WITHOUT THE EXPRESS WRITTEN PERMISSION OF THEROSSGROUPFT LLC.