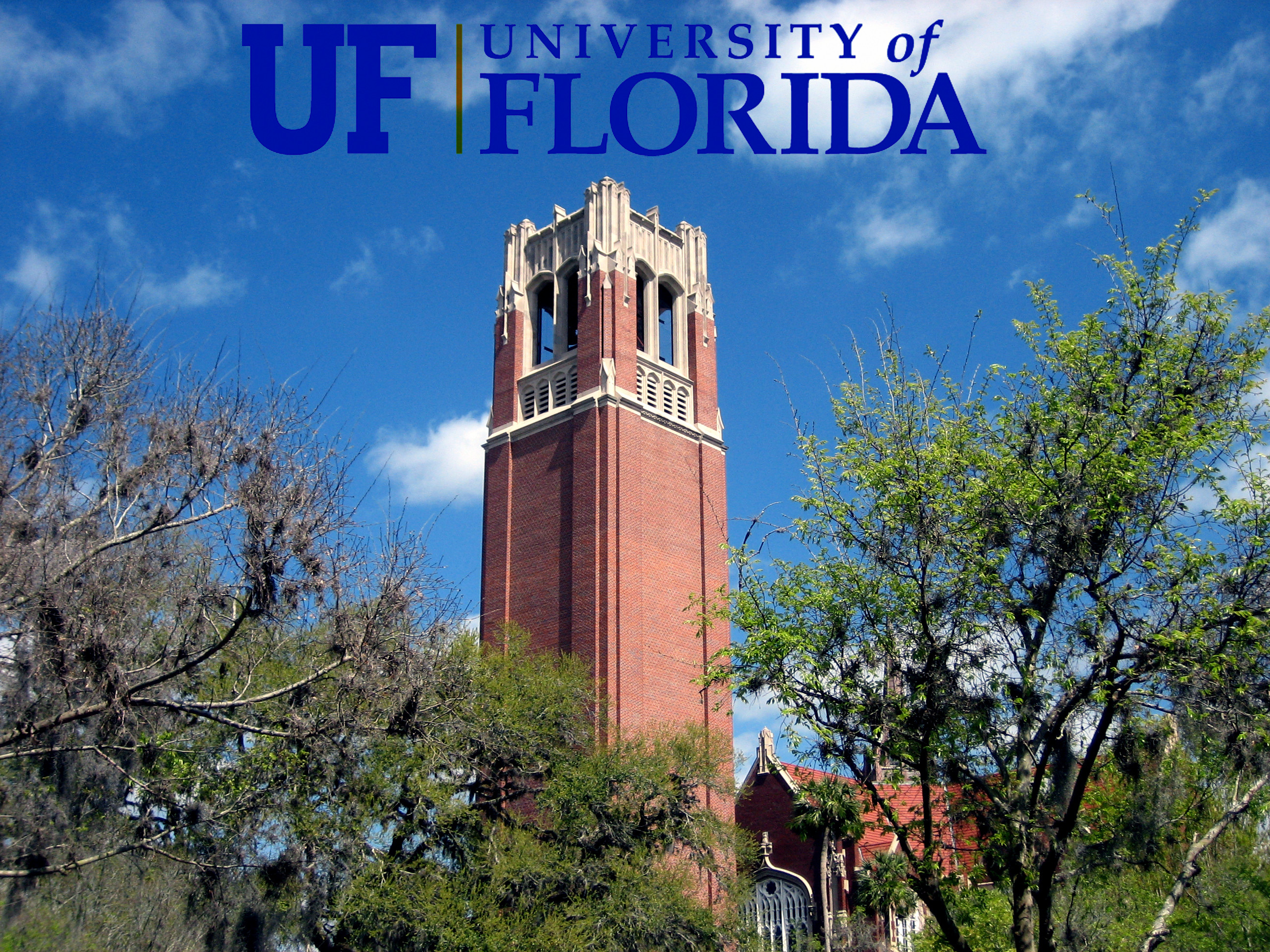 Type: University
Size:  Large (49,785; Undergrad: 32,008; Grad:16,272);
Style: Overwhelmed and overreaching
Affiliations:
Honors College: Honors Program (Separate Admission)
Student Body: Undergraduate; Graduate
Testing: SAT:1810-2060/ACT: 27-31
Admissions: 39%
Students of Color: 30.1%  (His.: 15.67%; AA: 6.63%; AS: 7.41%  NA: 0.3%)
Freshman Retention Rate: 96.0%†
Freshman Graduating After 4 Years: 67%
Attend a Graduate School within 10 Years:
Travel Cost/Time/Airport: Car: 4 Hours; JAX or GNV $125/one way off-peak.
Location: Gainesville, FL
Best For: Non-Music, Music Minor, Music Education
† See the Admissions section, below, for more.
University of Florida
The University of Florida (UF) is the best of the very large (32,000 undergrads) Florida colleges, but, overall, its size limits its access to opportunities to advance in so many disciplines for so many of its students.  Their poor diversity numbers for people of color, and the relative cultural isolation of Gainesville are not net positives.  Musically, the school is well suited to students interested in music education, but, at least over the last decade, we don't see a tremendous success story in placing students in top conservatories and graduate music schools, or in the music business.  For students who want a challenging education to go with their diploma, we would highly recommend the Honors Program path.  
Location
Located in Gainesville, Florida, what always amazes is how a major city did not grow up around the university. UF has compensated for this by creating a spectacularly vibrant campus life, but, its relative cultural isolation, compared to schools of similar size and stature, is overall a net negative. Undergrad is a time to both explore what you want to do, who you want to be, and grow from exposure to places that can expand your understanding of the world around you. Part of that socialization is being exposed to different ideas and different people. Gainesville itself does not offer as much in that department, and UF's achilles heel, diversity, only compounds the issue.
Diversity
At the very least, one would hope that major Florida universities would reflect the makeup of the population of the state. UF gets a "D" for diversity. According to the Census, 16.8% of the population is African-American in Florida. 2.8% is Asian. With a student body, according to UF data, which is represented by 6.63% African-American student population and 7.41% Asian, UF is 60% under-represented by black students and 264% over-represented by Asian students. The school's stats, at a minimum, should reflect more accurately the diversity of the state itself. Both of the other large universities (UCF, FSU) do better.
In the opinion of the MCAS, the combination of the two do not enhance one of the key experiences which we believe a top university should have.
Academics
The University of Florida has a 21:1 student-to-faculty ratio, which is too big. By contrast, University of North Carolina at Chapel Hill, a similar-sized school is 14:1.  As large Florida schools (10,000+ population) go, it is the best, but it lags behind schools of similar makeup in other states.
"If there's one metric that I think speaks to the quality and depth of investment in student education, it's the student-teacher metric, and Florida is not doing well across the board," says Ralph Wilcox, USF's provost.
Larger classes impede quality learning and students developing mentoring relationships with faculty.  While there are smaller classes, the larger lecture hall courses and even some of the mid-sized courses exceed the reach of faculty, UF students tell us, to be available to everyone in need of time/support, unless they reach out to graduate students, which, informationally, is often a mixed bag. Some are great. Some don't want to be bothered. Some just aren't good at teaching.
Likewise, opportunities for internships, and other precious resources, are divided by hundreds instead of a handful or dozens.  Almost 2 in 10 UF students graduate in five or six years, not four.  While it is not deviant from the norms of a growing number of schools, it can be a significant cost that is something to consider when planning college budgets.
To the positive, UF has leading edge research facilities and of the school's sixteen colleges, nearly half of them are in some form of medical field, which includes dentistry and veterinary medicine. The school also has a very strong agricultural program, and engineering and its design, construction and planning schools are also strong.  Access remains a problem.
If you are seeking an education at the University of Florida, and your grades are excellent, and you are not going into music, we would highly recommend applying for the Honors College.  In that setting, you can hope to see outstanding student-to-faculty ratios and you will be given a world-class education, for the same price as the cattle-call numbers of the larger university.
Pre-law likes to tout its success, but if you look at the numbers more carefully, they're really kind of dismal for the national footprint of law schools. Of the 732 students who submitted applications to law schools in their sample, 621 were accepted.  15% of students did not get in to law school.   45% (281) went to Florida state law schools, with Levin College, UF's own law school, accounting for 22% of that total, the largest group of their acceptances. Only 2% got into THE top schools, and 2.8% got into the next highest tier.  For a school of UF's standing in the hyper-inflated US News rankings, we find that a bit underwhelming.
In terms of opportunities in medicine, UF ranks 75th in College Magazine's survey of the top 100 schools.  Again, within Florida, a powerful school, but outside of the state? Less so.
If you plan on living in Florida and you don't mind larger classes, or you're limited to Florida Prepaid schools, UF is top dog on the heap.
Costs
Here comes UF's biggest advantage: It's dirt cheap for in-state residents. Tuition and fees are $6,310, and, if you have a computer and cell phone already, you're looking at about $19,330 a year full cost.
Florida Bright Futures can whittle off between $44 and $103 a class unit, and most families who file the FAFSA will see assistance.
UF reports: "Nearly two-thirds of UF graduates leave the university with no student loan debt. For the remaining third, their average indebtedness is roughly $20,700, compared with the national average of more than  $29,000." That is a bit misleading though, since the number refers to the base loans and not the total debt which compounds annually.  Their lead admissions page is a bit more accurate: 56% of students leave with no debt. That's still, in our opinion, too high.
If you borrow $5,175, the interest on it begins from the day you borrowed it. By the time you pay off the loan in 10 years, perhaps, it is higher. Assuming about a 6.8% loan, you might see a total of $28,585.76, of which $7,885.76 is interest.
We encourage you to aggressively seek out outside scholarships to avoid taking on debt.  Relatively speaking, though, UF provides a better bang-for-the buck, if other schools outside of the state don't provide you enough financial aid to make it cost-effective to attend there.
Quality of Life
Those who attend UF report that the quality of life on campus is excellent.  It gets a B+ from StudentLife, a magazine that ranks these things. 77% of the students live off campus. 21% of the campus is Greek (in a Fraternity or Sorority), and there are 982 registered clubs. Sports, of course, is UF's big draw, the "Gator Nation." UF is an NCAA Division I school, with championship contending men's football, basketball and baseball programs. Women have national ranking in women's cross country, gymnastics, soccer, and softball.  There is a lot to do on the campus, and, while the town may not be world-class, the architecture, public spaces, and green belts of UF are equivalent to any of the top large universities in the nation. Their Freshman retention rate is exceptional, which means that students are finding their experience here a positive one.
Alumni Network
A powerhouse in Florida networking and very good in surrounding states, but trails off thereafter.  Generally no material benefit for music students not in education or therapy.
Music
The music school faculty for music education is excellent, and many of the top music educators in Florida can call UF their alma mater.  For performance majors intent on a career as a performer, the results are decidedly less rosy. We look to see more connectivity of their faculty to other schools and the professional world. Their strings department seems to have better outreach than most of their other departments.
Individual faculty members, including assistant and visiting professors, occasionally are bright spots, but they are there to teach far less often than you might find at an institution that is within easier flight distances of outside work opportunities. Gainesville has no major airport. If you are seeking a music major here, a smart question to ask of the professor would be: Where do most of their students end up going after four years?  If you are intent on going there, you should even go so far as to ask to talk to one or two UF performance alumni to find out what their experience was like.
Most of the core faculty are regional players, many quite accomplished in their instrumentation.  A few are connected to alma maters like University of North Texas and Northwestern, which might prove useful for grad school.
On the whole, though, we don't see enough students who go there as music performance majors moving up out of the state to the regional, national or international scene as much as we do from other Florida schools.  Only their strings currently tout that connectivity with a higher degree of credibility.
Their Jazz program is more of an after-thought. The professor helming that part of the music department is a great performer, but there does not seem to be the school support that one finds at UCF or Frost or UNF for the program.
Admissions
The school posts its median scores, which suggests that students with GPAs lower than that get in as often as those with higher. In practical fact we do not find this to be exactly true, unless you play a Div I sport. Music admissions seem to run about 3.6 GPA/4.0 HPA up.  Transfers -in make up about 22-26% of most classes after freshman year, which means that a large number transfer in their Sophomore year, which explains the discrepancy with their touted 96% Freshman retention rate.
CONCLUSION
We award University of Florida 3-1/2 stars out of a possible 5:  One star for affordability, 1/2 a star for quality of life because they do an exceptional job of making the campus a great place, but Gainesville is sadly Gainesville and that limits real world experience outside of school.  As we're reviewing the general university, and not the Honors Program, we award 1/2 a star for education because the size of the institution outstrips the faculty's ability to teach on campus, with online being a growth space for UF.  They earn a 1 star for their big alumni network in Florida in access to opportunity, but we knock them down to a 1/2 star on diversity for their poor representation of African-Americans in their student body.
If you're on Florida Prepaid, this is one of your top choices. If you're not, then UF is a good backup school.
Similar regional schools: UNC Chapel Hill, Florida State University, University of Georgia.
___________________
TADA! ARTICLES ARE FOR THE EXCLUSIVE USE OF ITS MEMBERS. NO RANKING MAY BE REPRODUCED IN WHOLE OR IN PART WITHOUT THE EXPRESS WRITTEN PERMISSION OF THEROSSGROUPFT LLC.