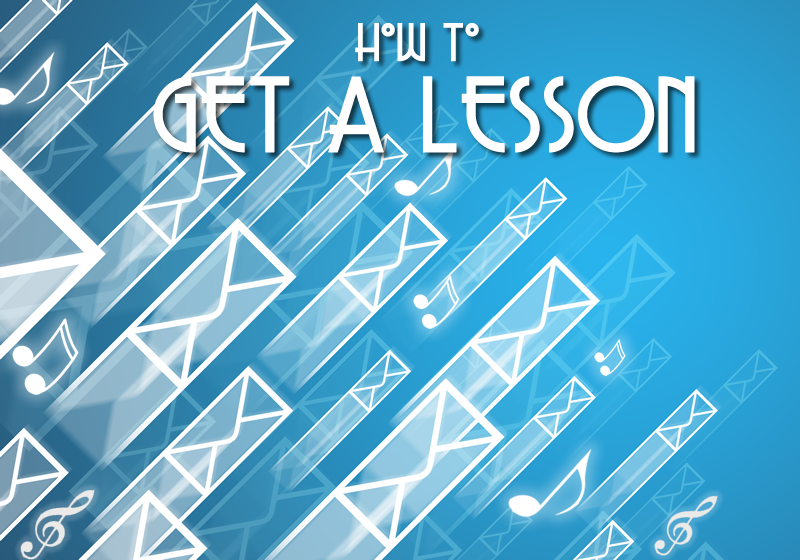 Chances are better than average that you WILL NOT get into most good music schools on an audition alone. We've had too many students who have been surprised by that "secret" of the game of getting into a top conservatory or university program.  Here's what you do to get yourself on the radar of some of the world's top music faculty for your instrument or vocal style.
If you're not in the "feeder" program of one of the top schools, e.g. you move to New York or Boston, go to school there, and take enrichment courses at Juilliard or NEC or Manhattan in the afternoon/evening, you are off their radar, unless they see you at a showcase, a master class at your performing arts , and/or you take a lesson with the professor that teaches the instrument.
Music is a mentoring process. Taking a lesson with a professor is a good introduction for both you and them to see if there is a fit in your musical education relationship. How do you get one?
The best thing to do is to email the professor, when your private teacher tells you that you're ready, usually starting at the end of your Sophomore year or in your Junior year. Read more about how you take a lesson at the link above. Here we're going to concentrate on how you get your foot in the door.
What do I say?
You need to customize your own pitch. (DO NOT COPY the text suggestions below word for word.) It should be SHORT, and include:
Introduction –  Your name, your year at [Your School] (Sophomore, etc.) and that you are a band/jazz/orchestra/vocal student of your school.
References – If your private teacher knows this artist, and tells you to reach out, or someone else tells you to do so, then mention this next. e.g. "John Smith, my private clarinet instructor here, told me to contact you." OR "Joe Jones in the Mingus Band told me to contact you."  ONLY do the latter if they really did make the offer and give you the contact. Lying is a bad way to start any relationship, and will boomerang back on you for a LONG time.
Experience/Objective – "I've been playing the oboe since I was 11, and I have been an all-district musician and a Florida all-state musician on my instrument" plus any major showcases like one of the honor Band of Americas like All-State (Not the group trip), GRAMMY® Band, and top summer programs like Interlochen, Brevard, or Tanglewood.  Keep it short, but give them enough "hooks" so that they can reach out to friends, colleagues, and/or trusted "feeders" of students and find out if you are "legit."
Range of Dates for a Lesson & Alternative Lessons  – "My family and I will be visiting Juilliard over spring break on March 19th, and I will be in New York again on July 8th weekend, if it is possible to meet then, or at another time, or by Skype."  If you can't afford to get to the professor, ask for a Facetime or Skype lesson. Many do them now.
Contact Information – Always good to provide at least one other contact point, from a parent email to your phone number, as a backstop to your email address. DO NOT give them too many. Two additional would be the maximum.
Short Thanks – "Thanks so much for a moment of your time."  Something to that effect. It is always polite to thank these people for taking the time to read about you and open the door for you to effectively privately audition for their studio at their school.
SAMPLE LETTER
FOR REFERENCE ONLY. DO NOT USE THIS WORD FOR WORD OR IT WILL IMPACT YOU BADLY WITH A PROFESSOR WHO HAS SEEN SOME OTHER STUDENT USE IT BEFORE.
Dear Professor __________________,
I am a junior in the Band Department at the Dreyfoos School of the Arts in West Palm Beach, Florida. I have been playing French Horn for six years, both here and at the Bak Middle School of the Arts. I have been an All-District and All-State musician for four of those years, and I was selected for the Concert Band of America this year.  I really want to pursue a career in music performance. My private teacher, John Smith, suggested that I should contact you. I would really appreciate having a lesson with you. I know that music is a mentoring process, and that students need to be a good fit with their teachers. I will be traveling to see schools with my parents in break times that we have. I can be available for a lesson from February 2nd to the 8th or May18th to May 23rd. I'm trying to put my schedule together.  Do you have time to see me over either of those dates?   Is there anything specific that I should bring with me to a lesson?
Thanks so much, and I hope to be able to see you soon!
Best,
YOUR NAME
WHERE DO I SEND IT?
To find the proper email address, get it from your teacher/contact OR, on the school's website, under Music Faculty. There are usually bio pages and contacts for the professors in that section.