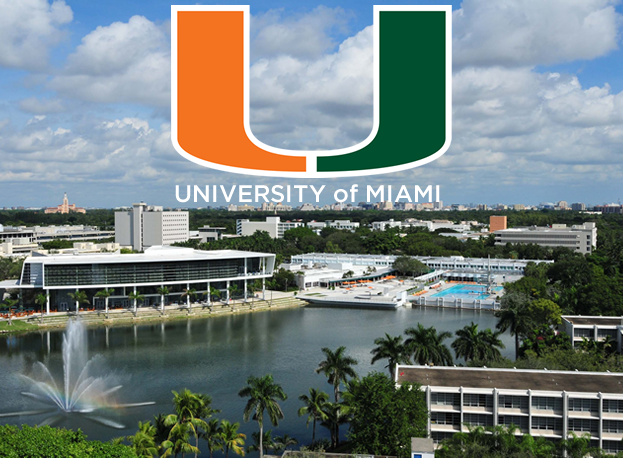 Type: University
Size:  Large 16,774
Style: Dynamic & Progressive
Affiliations:  N/A
Honors College: Honors Program (Separate Admission)
Student Body: Undergraduate: 11,273; Graduate:5,501
Testing: SAT:1780-2070/ACT: 28-32
Admissions: 38% (33,415 Applicants)
Students of Color: 58.1%  (His.: 21.5%; AA: 7.3%; AS: 5.6%  NA: 15.3%)
Male-Female: 49%-51%
Student-to-Faculty Ratio: 16:1
Freshman Retention Rate: 93.0%
Freshman Graduating After 4 Years: 68%; 6 Years: 81%
Attend a Graduate School within 10 Years: 75%
Travel Cost/Time/Airport: Car: 30-90 min.; Tri-Rail/Metro 1.2 hr.
Location: Gainesville, FL
Best For: All Non-Music, Performance, Music Minor, Music Education, Music Therapy
University of Miami
The University of Miami (UM)  is one of the most progressive schools in Florida, with one of the best retention rates, excellent gender and racial balance, and some of the most progressive ideas in the development of American higher education with a great sense of its place in America, Florida, and as a gateway to Latin America. It's graduation rate has greatly improved, and it boasts a 75% rate of students moving on to a higher (Masters) or terminal degree.  While we're not wild about the 14% expansion in the undergrad population, as large schools go, this is one of the best, and should not be overlooked by our students because it's in our backyard.
At The Helm
The school's current president, Julio Frenk, former Secretary of Health in Mexico, and the first hispanic head of Harvard University's medical system. Frenk is the first hispanic president of the University of Miami.
He takes over from  Donna Shalala, a former Secretary of Education under Bill Clinton, which coincides with the university's focus on expansion of their medical programs.
Shalala, over the six years prior, transformed the school to a dynamic "English" model where students were organized into "colleges" social networks that become their roots for their academic career.  She opened up more flexible education, upped the graduation rates, retention rates, and helped guide some major renovations of the campus.
Location
Located in Coral Gables, the school may be considered a little too close to home for many students, but, 26 miles is a world away. Miami offers some of the best mass transit for any city of that size in the world, and a cultural and lifestyle wealth rarely available to university students in sports, the arts, food and the opportunity to participate in what will become the hub of America's trade and social network with all of Latin America.
Diversity
While the percentage of African-Americans is unsatisfactory, about half of the average population in the state, UM's sizable Hispanic and representative Asian populations are well balanced to the region.  Diversity is very much in keeping with the academic and social footprint that the school wishes to impact within the community, in the state, the nation, and the global picture.
Academics
The school offers, outside of music, a flexible system where students can cross-major in ways that suit them. One student taking  admissions tours a few years ago was a dual biology and film major, making movies about biology, and at least one had already been on PBS' NOVA.  Unlike a lot of colleges that try to mold the community around them, University of Miami has become very much a part of the world around it. It is a school pushing the cutting edge in the sciences, medicine, architecture, political sciences, and business, with a flavor that favors developing Miami as the gateway between the U.S. and Latin America.   Medicine and nursing are a big forward growth element of the University's plans.
The school is highly competitive and selective.  The student-to-faculty ratio, at 16:1 is decent, but it is the general quality of the faculty that is more impressive.  There seems to be a more coordinated emphasis within the faculty on remaining connected and personal, which is a refreshing change from most larger Florida colleges. If you are looking for a "big" school with a smaller school education, we would recommend applying to the Honors Program , which is a separate application.
Costs
A private university, UM is one of the most expensive in Florida, at roughly $60,000 for those who live on campus. Tuition and fees are $45,724. 54.2% of students apply for need-based aid, with a bit more than half,  29.6%, receiving full assistance.  On average, financial aid covers 75.0% of need, which is a bit misleading as no one is particularly "average," so assume that if your FAFSA form gives you the most benefit, you might see a full ride.  Those in the middle income brackets might be looking at $15,000, or roughly what one might pay at the large barn-sized Florida state schools, and those in the upper bracket of FAFSA before it provides zero financial aid could be paying out $45,000 or more.  UM is not exceptionally more expensive than its peers, and, given their production, is at least earning its keep better than many other similarly-sized schools.  UM does take Florida Prepaid, but not at full rate as a state school would.  Contact their Florida Prepaid Advisor at (305) 284-6430 option #5. E-mail to [email protected] with "Florida Prepaid" in the subject line with any written questions.  We're not thrilled with the graduation rate in 4 years, but we find that the six year number is showing that most students stick it out. The more you pay, though, the more imperative it is to complete in four years, and double majors, while appealing, can add time and money to the bills.
Quality of Life
While there has been a lot of renewal of the dorms, several of the larger "barracks" dorms that were built to hurricane standards are a bit primitive by today's standards. The school continues to build and change, though.  There is a lot of apartment housing within range of the campus, often at a lower cost. Deduct the expense of travel for both students and parents and there is more "bang for the buck" in Miami's housing market. Miami is one of the most vibrant and modern cities in America, with exceptional mass transit, a renewed city center with newer sports and performing arts complexes, new cultural centers, and a great social scene. The home of Ultra, one of the world's biggest music festivals, Miami and its quilt of neighborhoods offer one of the top quality of life situations at a major North American university.  There are also a lot of opportunities to work in Miami, particularly during "season" with a huge assortment of hotels and the cruise industry keeping not only their own buildings humming, but keeping restaurants and shops bustling as well.
Alumni Network
The alumni network within South Florida has been very strong. We are seeing signs, in many departments, that improved connectivity with different parts of Latin America is opening up avenues to jobs, business opportunities, and continued education. The Engineering school still can guarantee that graduating students find work, but most will be local/regional.  Miami will develop an international footprint before it gets a national one.
Music
The Frost School of Music is just a couple of years in its new buildings. On the classical/piano side, it is one of the top music schools in the country. It offers great world music, music education, and music therapy programs.  The Jazz program is a mixed bag. There are some masterful teachers, with a huge knowledge base, and learning skills is not a problem.
There is a "vibe," a culture on that side of the building, though, that many of our students applying there have found a bit negative.  The pecking order is established pretty much from audition, so, if you get in, you should make an appointment to speak with your prospective professor/mentor, and see where you stand in their studio.
Frost has one of the few dedicated undergraduate vocal Jazz majors though, so if you are an aspiring Jazz vocalist this may be your spot.
There are separate admissions procedures, including a second essay, so make sure that you READ ALL OF THE RULES and the audition requirements before applying.
From a music standpoint, it's really again down to the teachers with whom you are working, and what you want to do with your music.
Frost is trying to connect itself up as a springboard back into the national music scene, but, without a strong "home" orchestra (Miami's orchestra strike was broken by bringing in the Cleveland Orchestra during "season," and New World functions separately, it has to become more inventive at getting students placed in better graduate schools around the world.
Jazz students are also being wooed from New York by Frost, but the big problem is that there is a very modest, to nonexistent "scene" in Miami and South Florida as a whole, that is usually populated with the professors and other more seasoned performers. We produce a lot of great young talents, but most of our clubs, the few out there are hobbyists and not businesses, nor do they cultivate much local talent with enough work to be able to provide either a learning platform or stable employment in future.  It used to be that there was a wealth of work playing in the Latin Jazz scene, salsa, etc.  If anything, the cheap and quick installation of speakers and a DJ have turned many of the live music clubs into Electronic Dance Music (EDM) clubs, and made the prospects for musicians that much worse.
Part of music education is the education, but without the real-world performance beyond the campus, it does limit the number of people who can excel at the school to all of the top few, perhaps, and then everyone else is not getting the same level of exposure to real-world work.
Admissions
38% of freshman applicants are admitted, making them more selective. 4.0 is their stated GPA, but we've seen 3.7 and up, particularly in music, get in. If you are interested in UM, you should be actively taking periodic lessons with the faculty in your late sophomore and Junior year to make sure that you're on their radar. Unlike other schools, they do not send faculty to All-State often, just Frost's admissions people.  With a high freshman retention rate, and a 5% to 9% transfer window, this is NOT a school that you want to rely on being able to move into in your sophomore year.  The school has a separate admissions for the Honors College.
Conclusion
We award University of Miami 4 diamonds out of a possible 5:  One diamond for quality of life because the campus is evolving well and, situated in greater Miami, it is an amazing experience in one of the newest, most revitalized cities in America.  A diamond for education for their flexible majors, excellent faculty, and high student satisfaction.  They earn a diamond for their diversity in both gender and social makeup, even though we would like to see their African-American recruiting numbers mirror the makeup of the community around them better.  They receive another diamond for their alumni program's effective outreach within South Florida, and their push into Latin America.  We drop them one star for high cost and the sizeable bump-up in their student body numbers over the last decade. The more people there are in your major, the more you have to climb over people to get the attention of professors.  We liked UM at 9600 much better.
Academically, right behind New College of Florida, this is the second best school of higher learning in the state, and is holding its own nationally.  For a student looking for a "smaller" large school, UM and Emory would be competitive choices.
Musically, if you are looking at education, therapy, or the professors in performance working with you have some connectivity to other parts of the world for graduate school that they can DOCUMENT with recent past alumni that they've helped along to the next level, then you might find a home here. Otherwise, Frost may leave you out in the cold.
___________________
TADA! ARTICLES ARE FOR THE EXCLUSIVE USE OF ITS MEMBERS. NO RANKING MAY BE REPRODUCED IN WHOLE OR IN PART WITHOUT THE EXPRESS WRITTEN PERMISSION OF THEROSSGROUPFT LLC.