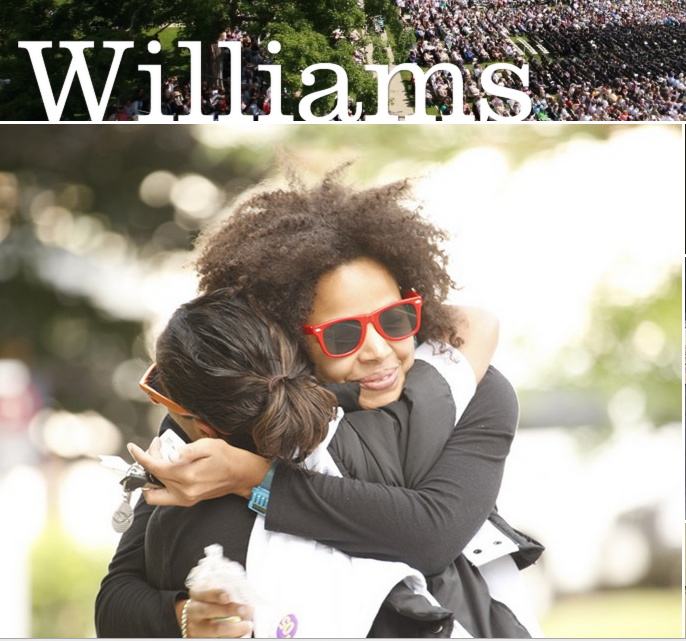 Gold Standard School

Type: Liberal Arts
Size:  Mid-Size (2,000 Undergraduate)
Style: Strong, warm community, highly motivated
Student Body: Predominantly Undergraduate
Admissions: 17% Admitted Overall; 40.3% Early Decision Pool
Students of Color: 36%
Freshman Retention Rate: 97%
Freshman Graduating After 4 Years: 89% within four years; 95% within 6 (Dual Major);
Testing: SAT/ACT; 2 SAT Subject Tests 
Travel Cost/Time/Airport: Mod./ 5-7 Hrs/Albany (ALB) or Low-Mod./3-4 Hrs/Boston+Drive
Location: Northwestern Massachusetts (Northeast)
Best For: Non-Music; Music Minor
WILLIAMS COLLEGE
Williams College, located in the Berkshires in northwestern Massachusetts, 135 miles from Boston and 165 miles from New York City is private, residential, and liberal arts, with graduate programs in the history of art and in development economics. The undergraduate enrollment is approximately 2,000 students.

Admissions Facts
For the 2015 class, there were 7,030 total applications. 17% were admitted, which is 548 students, comprised of 268 men and 280 women.  The Early Decision pool was 572 students of which 231 were admitted (40.3%).  Early admits make up 42.9% of the final class, so if this is a school that you love, strongly consider early admission. Floridians make up about 2.8% of their student body, which, unlike California, does not indicate an "overage" of students from our state, modestly improving your chances on their diversity scoring.
Academic
The student-faculty ratio is 7:1.  There are three academic divisions (languages and the arts, social sciences, and science and mathematics) that encompass 25 departments, 36 majors, and several concentrations and special programs.
The academic year consists of two four-course semesters plus a one-course January term. Williams believes in a "spectral" education. They understand that the 21st century demands students not be trained to do a task or two, but to integrate a number of learning skills from the curriculum to engage the world, and their area of interest, dynamically.
You will find
Financial
Williams admits U.S. students without regard to their ability to pay. The college meets 100 percent of every admitted student's demonstrated financial need for four years. More than half of all Williams students receive financial aid from the college.
Nearly 15% of the Williams student body is on higher levels of assistance, and 7.5% are on full assistance. They offer more support than a lot of very large schools with far more resources, but they're serious about their mission.
Quality of Life
Williams students are engaged and motivated. 47% of seniors have
engaged in research during their four years at Williams
75% of seniors report having held a leadership position on campus during
their time at Williams
49% of seniors report they have had coffee or a meal
with a faculty member on a regular basis
80% of alumni enroll in graduate programs
50% of students study abroad at some time during their four years at Williams
58% of students participate in community service projects
History
It is one of the oldest schools in the nation, established in 1793 with funds bequeathed by Colonel Ephraim Williams.  The school is well endowed, and has, over its long history, developed a reputation for providing a world-class education regardless of the student's background.
Performing Arts High School Value Add
This is a school for those who don't wish to pursue music, or who might be seeking a place to play as an avocation, not a major or minor.  Schools like these still seek out great musicians, and it remains a value-add in your profile that you bring that to the table for their community.
VISITING THE SCHOOL
See our general guide on how to tour a campus, but, in addition, Williams offers overnight stays so you can evaluate life on campus, staying with students and developing a sense of the school from the inside.
If you don't have the means to afford to travel to schools, Williams College offers students, in March of each year, the ability to apply for economic assistance to make the trip!
Contact [email protected] to inquire about an overnight, or, in March, to get the form.
OUR TAKE
We award five diamonds because it has an outstanding quality of education, low student to teacher ratio,  and, as a "gold standard" school that meets 100% of need, there is less than $3,000 in "gap" money for a handful of students that can be made up through work-study, grants, etc.
___________________
TADA! ARTICLES ARE FOR THE EXCLUSIVE USE OF ITS MEMBERS. NO RANKING MAY BE REPRODUCED IN WHOLE OR IN PART WITHOUT THE EXPRESS WRITTEN PERMISSION OF THEROSSGROUPFT LLC.