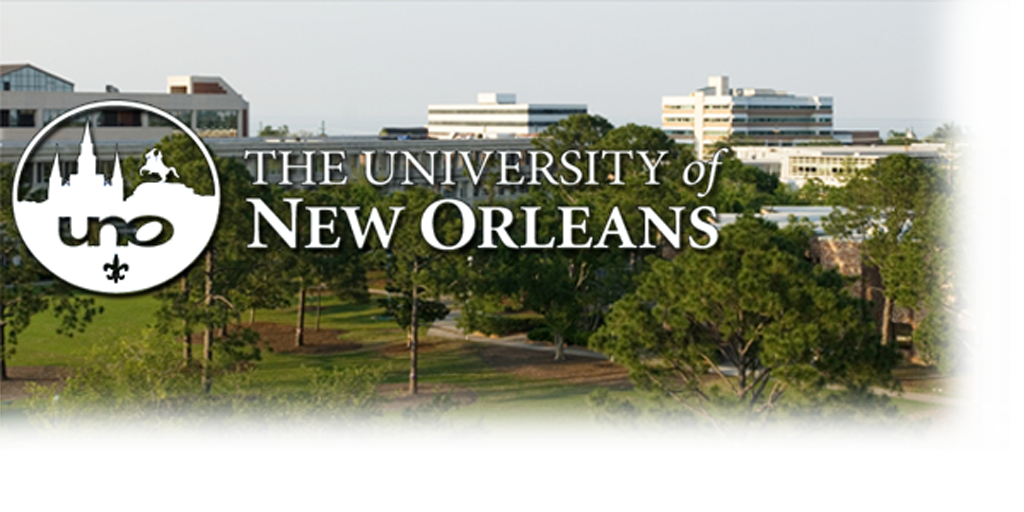 Type: University
Size:  Medium (9234; Undergrad:7,144; Grad: 2082);
Style: Academic Rebuilder/Jazz School
Affiliations:
Honors College: No, but a program.
Student Body: Undergraduate; Graduate
Testing: SAT: 1060/ACT: 23
Admissions: 50.4%
Students of Color: 44%
Freshman Retention Rate: 85.0%
Freshman Graduating After 4 Years: 13%
Attend a Graduate School within 10 Years:
Travel Cost/Time/Airport: Low/3-5 hrs./ Louis Armstrong Intl. (MSY)
Location: New Orleans, LA
Best For: Jazz, Non-Major Entry School STEM/Engineering* (2.5 GPA Cutoff)
University of New Orleans
The University of New Orleans (UNO) is an option for students in Jazz. It's lower GPA cutoff (2.5) its low Freshman retention rate 85%, and its truly dismal 13% of freshman who graduate after four years make it unappealing for most performing arts students other than those in Jazz, or want to take advantage of their *minority programs for STEM or Engineering.
Location, Location, Location
Located on Lake Pontchartrain, only fifteen minutes from the French Quarter, UNO has a 195 acre campus.  Being in the birthplace of "Jazz," New Orleans is still its greatest citywide "conservatory" of both the foundational music, and new offshoots of Jazz fusion (Trombone Shorty, Rebirth Brass Band, etc.)
Academics
They have 281 full-time and 116 part-time faculty members, with slightly less than 70 percent of the faculty holding doctoral degrees, or another terminal degree.  Because of its combination of tuition and academics, 13 percent of UNO students come from 42 other states and 74 other countries. The majority are Louisiana in-state, where the tuition is about 1/3rd of the out-of-state number.
That leaves them with a 22:1 Student to Faculty Ratio.  It is large, but given the number of schools that admit on a 2.5 GPA cutoff and lower standardized test scores UNO is an opportunity to get a student's foot in the door at a university level, get their act together, and transfer to other schools to complete their education. UNO in many ways is a just a cut above the community "state" (Florida) college like PBSC academically, because it doesn't carry the same stigma for transfer credits that cc and relabeled cc schools typically do.
Programs for engineering in the oil patch and STEM (Science Technology, Engineering and Math) may be marginally appealing to a limited number of students.  Check their website for more.
Costs
Costs and your assistance profile are a dividing point for those who apply financially.  If FAFSA qualifies you for total assistance, then the out of state tuition/housing at $30,000 "retail" is not an issue. UNO makes the US News "Least Debt" list, with 19% of its students graduating with $19,957 in debt, so the majority of students attending are receiving subsidy.  For Jazz students, or any musicians, walking away with that much debt would be unacceptable because the interest on it would be crushing.  So check your financial aid  picture to see how much cost you would have to bear.  Travel is reasonably inexpensive by air.  All undergrads are required to live on campus if they're not married, so you're not beating the school's housing/food costs by moving students into the city.
Quality of Life
UNO points out that its Freshman rate is influenced by people who do not return to school because the drop out or sometimes have financial issues that cause them to defer a semester or more from continuing. This being a school of opportunity, we can turn something of a blind-eye to the returning freshman issue that is a bit off-normal here.
UNO is in one of America's great cities, full of culture, entertainment, and some of the best food to be found anywhere in the world.  A streetcar ride takes you to the heart of things and other mass transit is equally good. Uber and cabs are plentiful.   New Orleans has had an uncomfortably high violence rate, but where UNO is located is not a high-crime/violence area. New Orleans, post Katrina, has made large strides in improving its police force, and in transforming the city into a center for commerce, not just entertainment.
With the Mississippi bordering it, and the Gulf at the river's mouth, there are opportunities for people interested in mechanical engineering and electrical engineering with many of the world's oil producers, great and small, as many of the people who launched the oil platform boom in the Gulf of Mexico retire.   UNO has benefitted from some of these firms' minority outreach programs.
For those interested in the culinary world, New Orleans was the center of American cuisine when New York was still serving Yankee pot roast as a speciality.  Chefs came from New York and Boston to Antoines and Arnaud to learn how to cook.  Today, from Emeril Lagasse to Paul Prudhomme and John Besh, the city remains a great proving ground for world-class chefs.
Music, Jazz in particular is New Orleans' groove, though, and at UNO, Jazz is, understandably, one of their top programs.
Jazz
New Orleans, of course, is the birthplace of Jazz.   New Orleans is a different sound and style than New York, and the Bop-infused music schools of the rest of America.  Dixieland, or traditional or "trad" Jazz is very much a part of the education at UNO. There is something happening out in New Orleans though, a new kind of Jazz fusion launched by Trombone Shorty, that blends hip-hop, rap, and other musical influences swirling around the city into that sound, which is finding itself both musically and financially more viable and popular than music coming out of the New York scene.
UNO Jazz was launched by the great pianist, educator, and father of the great Marsalis family, Ellis Marsalis.  It is an exceptional program for those seeking to learn both the past and the future of the music.  Their classrooms are backed up by an amazing living music tradition that wells up from every quarter of New Orleans. There is a ton of live music played all over the Big Easy, and, with restaurants as well as clubs offering live music as a rule, the opportunities to grow in real world play are there for those who have the drive to become part of the culture and succeed.
Students who are aural learners ("by ear") will find that there is a greater pathway to success here, where they teach students how to bridge those skills with sight reading better than the New York/conservatory schools, which have little time for teaching what they view as remedial skillsets.
Their faculty includes Irvin Mayfield, Edward Petersen, Jason Marsalis (drum adjunct), and Steve Masakawski (Guitar/Chair), Students interested should take a lesson with their faculty, and visit the campus to see if it fits them.
Students of talent and hard work find their way into all kinds of avenues in the New Orleans music scene throughout their four years.  Delfeayo Marsalis and others give opportunities to UNO grads, and they can migrate to New York's Jazz programs, but UNO is not directly credited for that success. It's working in the living lab of the city that largely allows students to become part of the scene here, or move into Jazz in the world beyond.
CONCLUSION
We can award University of New Orleans 1-1/2 diamonds for affordability, for those whose FAFSA profiles/GPA/SAT-ACT scores work well for this school, and a half for quality of life because there is a good campus life and its location, New Orleans, provides it advantages for the two primary areas we see it being useful to Dreyfoos Students.  We don't believe that the driving drop off in Freshman returning has to do with school life, but more with the fact that it takes more chances on students struggling to find themselves academically and function in an academic school.
We take away stars for quality of education, as overall the 13% four-year graduation rate is sub-par for any university,  access to opportunity outside of music and engineering, and pathway to the future for the general university, with exceptions again for those two areas of study.
For most Dreyfoos students, other than a handful that are interested in Jazz, can use it as a stepping-stone to transfer to other schools if they can get their GPA high in their freshman year, or those who can take advantage of minority opportunity programs in STEM and Engineering, this school is a pass.
___________________
TADA! ARTICLES ARE FOR THE EXCLUSIVE USE OF ITS MEMBERS. NO RANKING MAY BE REPRODUCED IN WHOLE OR IN PART WITHOUT THE EXPRESS WRITTEN PERMISSION OF THEROSSGROUPFT LLC.