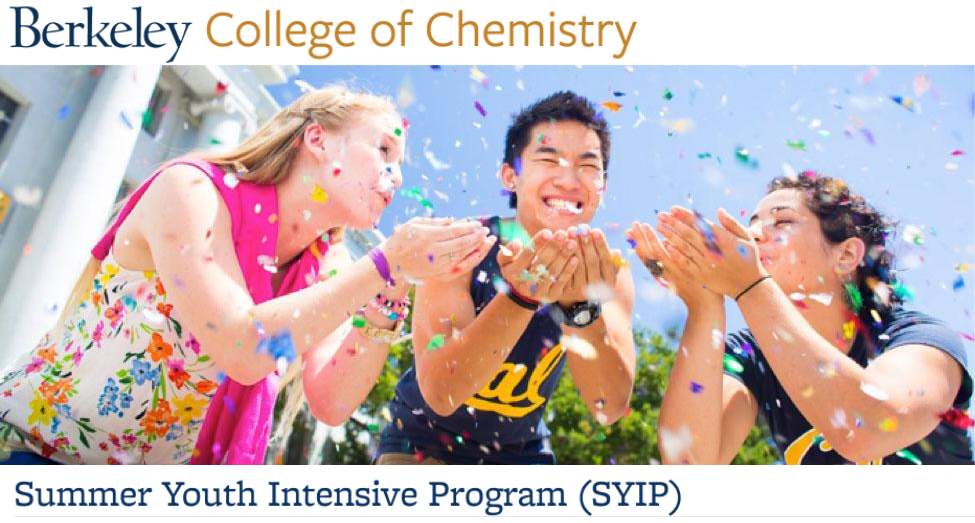 The University of California, Berkeley offers a unique Summer Youth Intensive Program for exceptional chemistry students.
SYIP begins during the summer and continues over the course of one year.Top high school students who are motivated and dedicated to learn and do scientific research in chemistry, biochemical engineering, material science, or related fields. The program is a huge leg up no matter what college you choose to attend.
Students are paired with a mentor from the faculty who provides nine months of remote coaching .They will learn about cutting-edge research that is currently being done on campus in that mentor's area of focus. They will be prepared for a four-week onsite internship in the mentor's research lab over the summer, in July.
SYIP gives students an opportunity to work for with some of the top UC Berkeley professors, and work with grad and undergraduate students in chemistry. It's another "kick the tires" of a top tier university's chemistry program. Big recommend!
For the on-site summer program, students stay in UC Berkeley dorms. They are chaperoned by UC Berkeley undergraduate students, and get what the program describes as "other learning opportunities outside of the laboratory." They also get time with Berkeley admissions, and access to other events on campus.
This is a great opportunity for the right students!