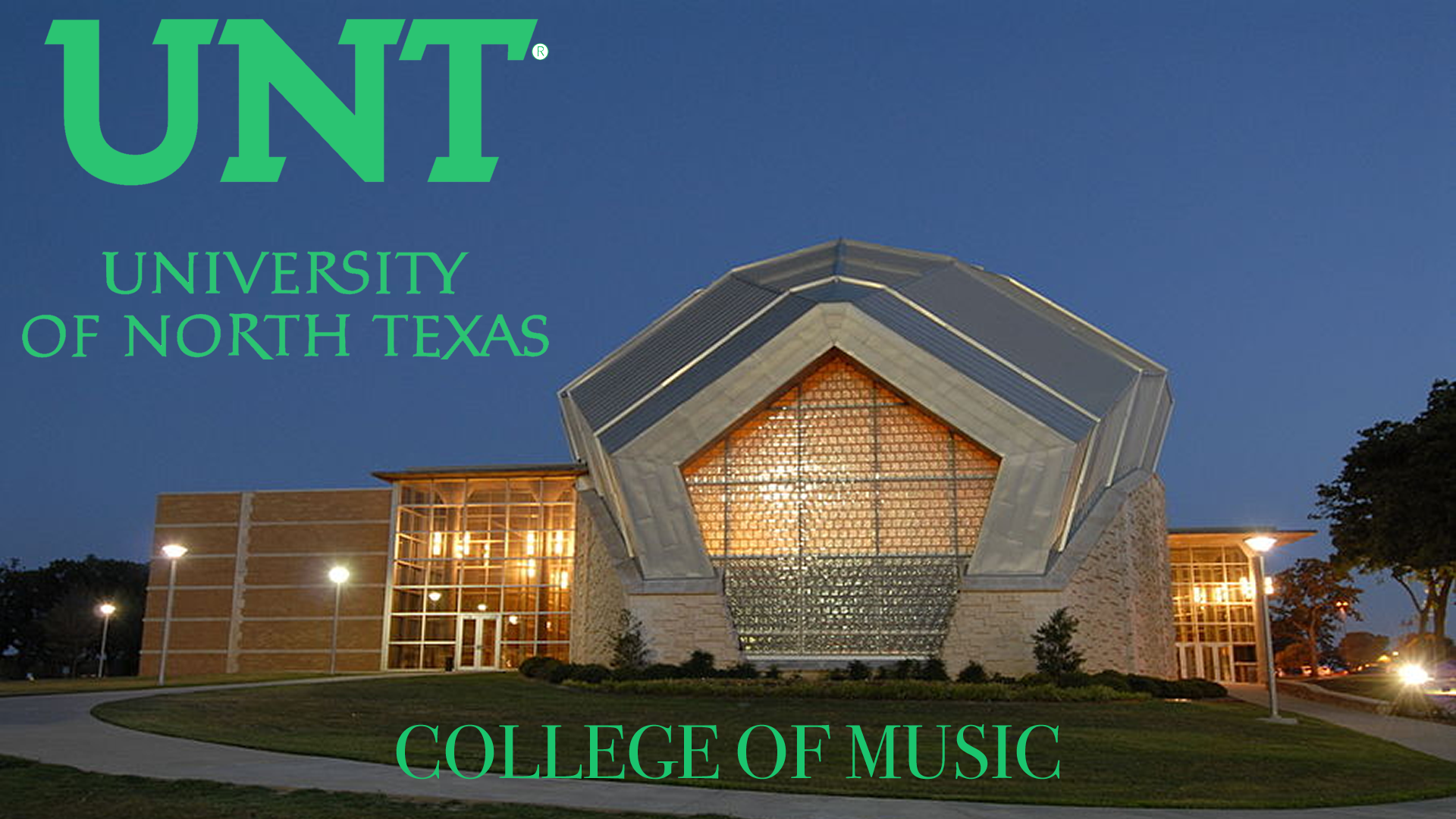 University of North Texas (UNT)
College of Music

Type: University Conservatory
Size:  Large (36,221) Music School:  Large (1,635)
Style: Congested and Competitive
Student Body: Undergraduate/Graduate
Honors College: Yes (Music Minors)
Best For: Music majors/Music Education (Minors – See Bottom)
Travel Cost/Time/Airport: Low/ 5-7 Hrs (Dallas Hub), (DFW or Love Field)
Location: Denton, Texas (Dallas/Ft.Worth Metroplex)

The College of Music at the University of North Texas, located in Denton, Texas (Dallas/Ft. Worth metroplex), is the second largest music school in the country by student population. That can be a disadvantage if you are not top dog on the list of the faculty member working with you. The good news is a lot of music faculty, and some top grade artists who make their way to UNT every year as guests. 
Particularly given its size, with Indiana being the only larger program at the moment, students from UNT predominantly end up in music education, music therapy, and music-related careers, but some do go on to work as professional musicians in all aspects of the music business, such as Opera, Concert, Broadway and Jazz.
UNT has great outreach into Europe, and both draws students from abroad and sends many of its professional musicians to work overseas.
In terms of finding the right mentor, the one plus to UNT is that there are a lot of them: They boast 100 full-time resident faculty that includes many internationally recognized performers, composers, scholars, and researchers. Similarly pedigreed guest artists and scholars regularly come in for master classes, lectures, and special performances.
This was one of the first schools to have a dedicated Jazz major, and still maintains one of the top Jazz programs in the country.
Students are encouraged to find out how the music school integrates with the rest of the larger university, which is large.  If auditions for audition entry only courses are held days or weeks after the general education courses are made available to the rest of the student body, it can make finding interesting/meaningful classes challenging.
If you want to minor in music here, consider applying for the UNT Honors College, the "school within a school" that is for high-achieving students looking for small class sizes and more attention, relationships with faculty, etc.  Speak to the Honors College about music minor while at their section of the university:  https://honors.unt.edu/
How good is it for you/your instrumentation or vocal? It's a case-by-case situation, and students interested should take a lesson with a professor there after consulting with your private teacher, your music faculty or Artists in Residence to see which one might work best for you.
OUR TAKE
We award three diamonds for the quality of the program, dropping one for its size, which, even with its large base of faculty, still can be a difficulty in terms of the majority of their students finding professional time in the Dallas metroplex to perform while in school, find music therapy jobs, etc. (Although Music Education majors don't have issues) and another star for a financial aid system that has high likely gap money situations for parents with FAFSA profiles that are between the under $60K threshold and those whose means do not qualify them for assistance.
___________________
TADA! ARTICLES ARE FOR THE EXCLUSIVE USE OF ITS MEMBERS. NO RANKING MAY BE REPRODUCED IN WHOLE OR IN PART WITHOUT THE EXPRESS WRITTEN PERMISSION OF THEROSSGROUPFT LLC.